SAM Magazine—Snowmass, Colo., Jan. 3, 2019—After more than 23 years working in leadership roles for Aspen Skiing Company, Susan Cross now holds the top spot at Snowmass as the resort's new general manager. Cross succeeds Steve Sewell, who retired Dec. 31 after a 42-year career with SkiCo. He had served as Snowmass GM since 2006.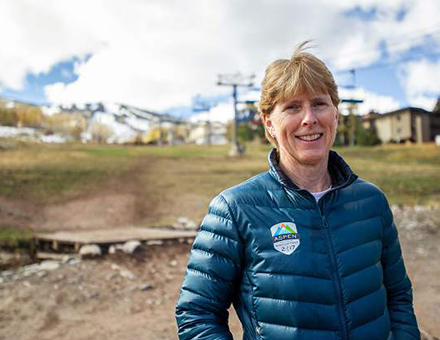 Cross began her career at Snowmass in 1991 after moving west from Somerville, Mass. She started out in the skier services department and worked her way up, becoming director of guest services in 1995. She held that position until 2011, and was then promoted to the role of Buttermilk mountain manager.
According to The Aspen Times, Cross was one of only three women in a pool of 52 applicants for the Snowmass GM position, but she doesn't see gender as a deciding factor in her being chosen. "It's a great job and I love what I do," Cross told the Times. "I think of it as I was the right person for the job who happened to be a female, versus I got the job because I'm a female.
"Snowmass is the largest of SkiCo's four mountain resorts in the Colorado Rocky Mountains, with more than 3,300 acres of skiable terrain. The resort has recently been undergoing a variety of significant capital improvements, including new base village infrastructure and the new mid-mountain summer activity hub called Lost Forest.