SAM Magazine—Natick, Mass., Jan. 4, 2019—Voting for HKD's I Am a Snowmaker contest opens today and continues through Monday, Jan. 14. Started in the winter of 2013-14, the contest highlights the hard work, determination and camaraderie of snowmakers, and recognizes how critical they are to the success of our industry.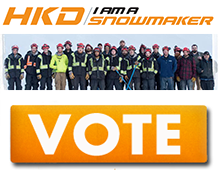 Six teams were chosen in October 2018 to move forward with the contest and create compelling videos showcasing their snowmaking team's hard work as they prepared the slopes for the winter season.
The six teams competing for best snowmaking crew are Mammoth Mountain, Calif.; Mont-Sainte-Anne, Quebec; Mount Sunapee, N.H.; Panorama Mountain Resort, B.C.; Taos Ski Valley, N.M.; and Wildcat Mountain, N.H. They were chosen from a competitive group of submissions for their passion and dedication to snowmaking and to the mountain resort industry.
Each team has submitted a team photo, three words to describe themselves, names of the snowmaking crew, and a produced video. To view the profiles, videos, and to vote, please visit: www.saminfo.com/i-am-a-snowmaker.