SAM Magazine—Salt Lake City, Utah, Jan. 9, 2019—After more than 40,000 lift rides and 44 years in the business, working at six ski resorts, in five states, and with one Austrian lift manufacturer, F. Scott Pierpont retired from the industry on Dec. 21.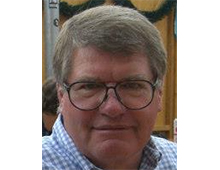 "There are many wonderful people who share my passion for skiing in this country, and it has been a pleasure to work with them over the past 44 years," Pierpont said.
His journey began in his home state of Colorado as a night groomer at Copper Mountain in 1974. He wore several other hats over his career, which encompassed golf maintenance, snowmaking, trail crew, blaster, ski patrol, lift operations, and lift maintenance. He served as president of Mount Snow, Vt., Canyons, Utah, and Grand Targhee, Wyo., and finally as senior vice president of sales for Doppelmayr USA.
During his career, Pierpont also served on several organizations including ANSI, Ski Utah, California Ski Industry Association, Park City Chamber of Commerce, Vermont Ski Areas Association, Society of Explosive Engineers, and San Bernardino Search and Rescue.
Lifts were always his favorite, and it was fitting he spent the last nine years of his career selling and building lifts while establishing and nurturing relationships. Pierpont traveled frequently to resorts across the U.S. engaging with his peers.
"We are grateful for Scott's contributions to our organization," said Mark Bee, president of Doppelmayr USA."In addition to Scott's many contacts in the ski industry, Scott had an operator's perspective, which was very valuable in reshaping our organization and improving the focus on our customers."
Shawn Marquardt is succeeding Pierpont at Doppelmayr. Marquardt joined Doppelmayr in 2007 after working as an electrician for Mammoth Mountain for four years. He has a bachelor's degree in electrical engineering and is a licensed professional engineer in several states. He has filled many roles at Doppelmayr USA over the past 11 years, most recently as manager of the electrical department. Marquardt also serves on the ANSI B77.1 committee.
"Shawn is well equipped to fill the role vacated by Scott," Bee said. "In addition to his in-depth knowledge of our products, Shawn has demonstrated a strong commitment to serving our customers. Shawn will excel in this new role and maintain a strong focus on making sure the needs of our customers come first."
Marquardt will oversee the entire sales staff at Doppelmayr USA, including Tom Sanford, Randy Woolwine, Eric Mann, Ted Blazer, and Cooper Bateman.