SAM Magazine—Geneva, Switzerland, April 23, 2019—The eleventh "International Report on Mountain & Snow Tourism" has been compiled and published by the Geneva-based consultant and ski business expert Laurent Vanat. The report of the 2017-18 season gives an upbeat picture of the state of the global ski industry for the second consecutive year.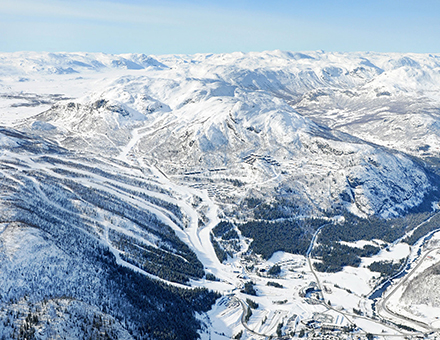 Hemsedal, Norway
"The winter season 2017-18 shows again a global trend upwards. Even if, as usual, some countries or regions performed better than others, this gives a positive sign after three years of decline," said Laurent Vanat. "Although the worldwide ski industry faces challenges and the numbers of skiers in western countries tend to be more or less stagnant when not decreasing, the global performance remains at a high level. The 2017-18 winter globally ranks as the 4th best ski season of the new millennium."
Among the report's findings are:
- Worldwide 2017-18 global skier visits count is up 5 percent over th 2016-17 season, which was itself 4 percent up over the 2015-16 season.
- Skier visits have been substantially rising in most of the Scandinavian countries, for several years in a row. It is the only region in Western markets where current attendance is better than it was 10 years ago.
- The Southern Hemisphere also performed well in spite of relatively small volumes and had its best season ever. It is about 10 percent up over the former season and 25 percent up over 10 years ago.
- The 2018 Winter Olympics did not bring a positive uptick in the ski industry in South Korea and the attendance at ski resorts is continuing to decline there.
- China is now third worldwide in terms of number of national skiers after the United States and Germany, with rapid growth ahead of the Beijing 2022 Winter Olympics.
Other trends identified were limited growth in Eastern Europe, Central Asia, and the Middle East. Here, despite lift upgrades at existing ski areas and newly built state-of-the-art resorts, attendance did not show substantial growth as yet. In some places, ski infrastructure developed quicker than the ski culture of the local population and foreign visitor numbers may have been overestimated. Coupled with economic slowdown, this led to several promising projects being put on hold or developing at a slower pace than expected.
Russian clients have limited their travel to Europe for several seasons now. This provided for some domestic growth in skier visits and also benefited some neighbouring countries like Georgia. Even if the growth in attendance at Russian ski resorts slowed down after the stimulation of Sochi Winter Olympics wore off, development potential is not yet exhausted.
The full International Report on Mountain & Snow Tourism can be downloaded fromhttps://www.vanat.ch/international-report-on-snow-mountain-tourism.
Based on a report by Patrick Thorne, SnowHunter