SAM Magazine—Ludlow, Vt., May 23, 2019—The summer season at winter resorts is about to begin: Memorial Day Weekend openings abound. But Mother Nature seems to have missed the memo. May has seen unexpected snowfall across the country, particularly in the West, with recent dumps measuring in feet. As a result, several resorts are slated to open for both summer activities and skiing this weekend.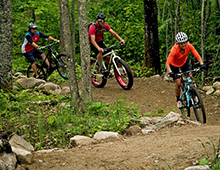 Golf operations at Midwest resorts have been in full swing since mid April, and many areas will be kicking off their summer season with big tent-pole events over the holiday weekend and in early June.
In the East, mud season is starting to give way to drier weather, allowing for mountain biking and other summer operations to open.
West
Purgatory, Colo., tweeted out a photo celebrating the #aMAYzing five inches of fresh snow it received this week, and will offer both skiing and summer activities on May 25 and 26. Aspen Mountain, Colo., will also open for summer operations starting May 25, and will offer skiing and riding on 130 acres for the weekend.
Breckenridge, Colo., decided to extend its winter operations beyond Memorial Day, already a four week extension beyond its traditional closing day, and will now offer skiing and riding on the first two weekends of June. The resort aims to have the majority of its Epic Discovery summer activities operational by June 14, but anticipates that the biking and hiking trails will not be available until July due to the snowpack.
Steamboat Resort, Colo., is also dealing with the challenges of continued snowfall. It will open Friday–Monday this holiday weekend with "land up" activities including its Kilimanjaro Climbing Wall and Outlaw Mountain Coaster, but will not open the Christie Peak Express since hiking and biking trails remain closed. Steamboat is planning to begin daily summer operations June 14.
In Montana, Whitefish Mountain Resort is set to open May 25 for holidays and weekends with a limited range of activities, and plans to open more as the snow melts. New this summer, Whitefish has added a second alpine slide and redesigned its existing slide. The resort will be offering season pass holders 50-percent off on activities and a 20-percent discount on food until daily summer operations begin June 15. It will continue to offer early-season pricing on its aerial adventure park and zip line tour until the end of the month.

Snow King, Wyo., turns 80 this year. The resort opens for summer May 24, and it has several summer enhancements in the works. Snow King is adding a new automated photo system, a Climb the King Uphill Challenge that utilizes RFID technology, and a TravelStories app for its Summit Scenic lift, to be released in early June.

In British Columbia, Revelstoke has expanded its summer operation with a new aerial park and top-to-bottom mountain biking. The resort opened its existing disc golf, lower gondola and alpine slide May 17. The upper gondola and aerial park are scheduled to go live June 22, and the mountain biking trails will debut sometime in mid-July.

The Blake Hotel at Taos Ski Valley, N.M., reopens May 23, and the resort kicks off its summer events season with the 37th annual Red River Memorial Motorcycle Rally over the holiday weekend. The event is expected to bring 20,000 bikers through the Red River Valley.

In Utah, Snowbird is still open Friday–Sunday for skiing and riding and expects to continue spinning lifts on weekends through June 7. Everyone else is now waiting for the snow to melt. Snowbasin kicks off its Blues, Brews & BBQ concert series June 9. Solitude Mountain will open for the summer June 14. And the Deer Valley Music Festival series starts June 28, entering its sixteenth year this summer.

People are also still skiing at Mammoth Mountain, Calif. The resort received another 2-3 inches on Tuesday, and will spin 12 lifts Saturday–Monday. Up near Tahoe, Boreal Mountain will begin operating its Woodward Summer Camps, which center around activities like skiing, snowboarding, skateboarding, and mountain biking, June 2. And further south, Mountain High starts its summer events series on May 23 and its Music on the Mountain series June 8.

Midwest
In Minnesota, Giants Ridge will be opening its expanded mountain bike park May 25. The park features two lift-served gravity trails, with more trails are under construction. Lutsen Mountains Resort hosted its inaugural fly fishing weekend back on April 27 and has begun some of its summer activities, such as disc golf. Lutsen's sea kayak tours will relaunch over Memorial Day weekend. On June 7, Buck Hill will start its season with a Summer Kick-Off party featuring live entertainment, games, food, drinks, summer tubing, and a bonfire.

In Michigan, Crystal Mountain will throw its 14th annual Michigan Beer and Brat Festival Memorial Day weekend along with a host of other activities and events, including the North Mitten Half Marathon. June 1, Boyne Mountain Resort will hold its 10th annual Dirty Dog Dash, a 5k race across the slopes through obstacles. Participants are rewarded with live music and cold beer at the after party. And Ski Brule is targeting June 1 to open its Brule's Sporting Clay clay-pigeon shooting game.

Mont Du Lac, Wis., will hold its annual BowFest on July 25. BowFest is the world's largest outdoor archery and music festival. And Boston Mills, Ohio, will put on its 48th annual Boston Mills Artfest, June 28-30. The fine art festival also boasts a Sierra Nevada beer garden and live entertainment.

East
Holiday Valley, N.Y., is gearing up for weekend operations starting this Saturday. Its outdoor pools, 13-course aerial adventure, 3D climbing forest, and mountain coaster will all be open. On Memorial Day, veterans can climb for free in the Sky High Adventure Park. Daily summer operations are slated to begin June 15.

Also in New York, West Mountain is opening a brand new adventure park this season in late June or early July. The mountain's 20-trail bike park will operate on weekends in June and open for daily access in July.

Jiminy Peak, Mass., will open its self-guided aerial adventure park, mountain coaster, zip lines, a giant swing, and a euro bungee on May 25.

Camelback, Pa., extended its winter through April 28 with spring snow tubing. On April 29, the resort began summer operations with its zip line and adventure course. And its star summer attraction, the outdoor waterpark, will open for weekends May 25. Daily operations begin June 14.

In Vermont, Killington, which typically boasts the longest winter season in the East, will be open for skiing Friday–Monday, May 24-27. On Monday, the resort is offering free skiing and snowboarding for active duty, retired, and honorably discharged military members. That same weekend, the bike park, golf course, and adventure center will open for the season.

Bromley Mountain is set to operate weekend-only summer activities from May 25–June 9 and begin daily operations June 14. On June 21, Bromley is encouraging guests to wear pink—50 percent of all ticket sales that day will be donated to the first ever Komen Vermont "More Than Pink" Walk, scheduled for July 20. And across the state, resort bike parks will be opening: Burke Mountain and Mount Snow are slated for Saturday, May 25; Suicide Six is looking at June 7; and Okemo is aiming for June 29.

In New Hampshire on May 25, Mount Sunapee and Gunstock will both open their adventure parks, and Gunstock is hosting a Summer Kick-Off Scavenger Hunt to celebrate. Waterville Valley is calling on patrons to join the Mountain Cleanup Day on Saturday, May 25, and then the 30th annual Chowder Fest & Brews on Sunday, May 26.

Loon Mountain hosts its 15th annual New England Brewfest Saturday, June 22. And at Cranmore Mountain Resort, the brand new Cranmore Food and Wine Event, featuring cooking demonstrations, a guest vintner from Italy, and live music, is also scheduled for June 22.

Further north in Quebec, Mont Sutton will start its third season of mountain biking on May 25. On May 18, the ski area hosted a community spring cleanup to ready the cross-country trails. Mont Sutton also has a full schedule of fun runs and races set for June, beginning with the X-Man obstacle course race on June 1.

Ski Bromont started its mountain bike season on May 18 and will open its outdoor waterpark June 13. Tremblant opened summer operations, including ecotours, gondola rides, and land up activities, on May 17. Its sensory experience Tonga Lumina, new last year, starts June 14, and its beach and tennis club opens June 21.

Southeast
Ober Gatlinburg, Tenn., is celebrating the holiday weekend with a German-inspired May Games event that includes activities such as the stein hold, the silipint relay, the beer barrel roll, and dizzy pong. There will also be Kinderland kids' activities, a bratwurst eating competition, and a beer garden. Later this summer, Ober will debut summer tubing on synthetic lanes.

In North Carolina, Sugar Mountain Resort begins its Grillin' & Chillin' concert series on May 27. The resort opened its golf course April 13, and its bike park opens for weekend operations June 28. Sugar Mountain has several July events planned, including a kids Gravity Mountain Bike Camp, July 1-3, the 3rd annual Summit Crawl July 6, and fireworks from the summit on July 4.

In many regions, it has been a wet May. While areas are still planning for Memorial Day weekend celebrations and activities, most are targeting mid-June to early July to open daily operations, host big outdoor events, and start upper-mountain activities.

Report by Katie Brinton