SAM Magazine—East Rutherford, N.J., Oct. 11, 2019—Big SNOW American Dream, North America's first indoor, real-snow ski and snowboard center, has set its official grand opening for Dec. 5, 2019. The facility will offer year-round skiing and riding on four acres of snow-covered slopes inside the American Dream retail and entertainment complex, 10 miles for New York City.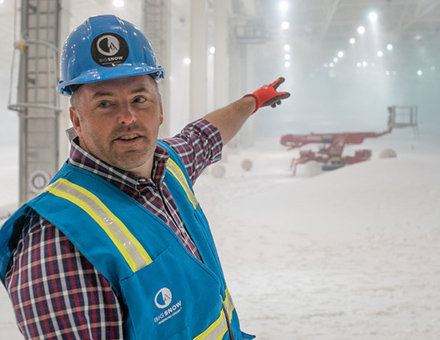 Operated by New Jersey-based SNOW Operating—owner/operator of Mountain Creek Resort, N.J., and pioneer of terrain based learning—Big SNOW is a 180,000-square-foot, 16-story, climate-controlled facility. The skiable area is 1,000 feet long with 160 feet of vertical and a graduated slope ranging from 0 percent at the base to 26 percent at its steepest point. It will be served by three surface lifts, including two conveyors and a poma platter, and one aerial fixed-grip quad.
The facility will remain a constant 28 degrees Fahrenheit inside to ensure consistent and optimal snow conditions year-round. A total of more than 5,500 tons of snow will be shaped to an average depth of two feet throughout. Specially designed radiant cooling in the floor and snowmelt systems will maintain an ideal snow texture and reduce the center's environmental impact.
SNOW Operating hopes to introduce more than a quarter million new skiers and riders to the sports next year, said VP of marketing and sales Hugh Reynolds. "Big SNOW is a game changer for skiing and snowboarding in the United States. The unprecedented access to year-round snow, combined with the center's location and the overall appeal of American Dream, will allow us to provide opportunities never before seen, and to move the needle on growing the sports in a big way."
Big SNOW will offer introductory lessons, private coaching, children's programs, snow play, corporate team building, and private events. SNOW Day Packages, starting at $50, will include equipment rentals, helmets, winter outerwear (pants and jackets), slope access, and a complimentary introductory lesson through SNOW Operating's proprietary Terrain Based Learning method of instruction. Slope access tickets for guests ages 7 and up will be $35 for two hours and $50 for four hours. Tickets will be available for advance purchase online at reduced rates.
Prior to opening, Big SNOW will launch an expanded consumer-facing website, and needs to hire for 300 open positions in retail, guest services, ticketing, ski and snowboard instruction, lift operations, and more. To fill these positions, Big SNOW will host two hiring events at the Hilton Meadowlands in New Jersey, Oct. 13 and Nov. 10, from 10:00 a.m. to 2:00 p.m.