SAM Magazine—Salt Lake City, Utah, Oct. 21, 2019—Katharina Schmitz has been named the next president of Doppelmayr USA, Inc., effective March 31, 2020. Schmitz will replace Mark Bee, who retires in March after 30 years in the ropeway industry.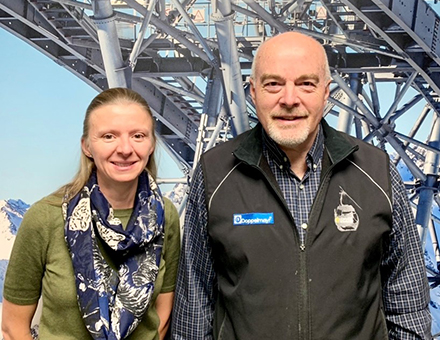 Bee will continue to serve on the board of directors for Doppelmayr's North American entities once he retires. Over his career, Bee has been involved with more than 400 ropeway installations throughout North America, and was a key figure in the Doppelmayr USA, Garaventa/CTEC and Von Roll Tramways merger in 2002.

Schmitz joined Doppelmayr USA in 2018 as vice president of project management and was promoted earlier this year to vice president of operations, where she is responsible for production, logistics, and construction activities. Schmitz, an Austrian native, has a background in industrial engineering and international business, and has more than a decade of experience in the U.S. automotive and aerospace sectors.
FROM THE SAM july 2018 ISSUE: KNOW YOUR CAPACITY
"Since joining Doppelmayr I have been impressed with the dedication and talent of the employees, and the continuous focus on solving problems for our customers," said Schmitz. "I will work very hard to continue to advance the capabilities of our team to make sure we are prepared to provide the best products and services to our many loyal customers who have placed a great deal of trust in our organization."

"It has been an honor and a privilege to be part of the Doppelmayr organization, and to work in the ski industry," said Bee. "We've never had a stronger staff, and I am extremely impressed with the energy, skill, and enthusiasm of our employees. It was time for me to get out of the way and let younger people take over the responsibility to lead Doppelmayr into the future. I am confident I am leaving the company in extremely capable hands."