SAM Magazine—Oct. 30, 2019—October storms have dropped temps and several feet of snow in the Colorado Rockies, allowing resorts across the state to start spinning lifts. In other parts of the country, ski areas are mostly still shut and looking toward November to bring better snowmaking conditions and, hopefully, some of last year's Snovember magic.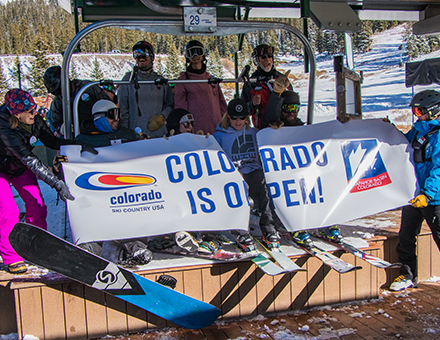 Arapahoe Basin, Colo., narrowly beat out neighboring Keystone in the race to drop the first rope of the season. Keystone had announced on Friday, Oct. 11, that it would be the first to open in the country that Saturday. Later Friday afternoon, though, A-Basin beat Keystone to the punch, opening its lower mountain for lift-serviced sliding from 3.30 p.m. to 5.30 p.m. The resort was closed for less than 100 days (it wrapped for 2018-19 on July 4, 2019.).

Keystone opened with top-to-bottom sliding as promised on Saturday, Oct. 12—it's earliest opening in 20 years. Forty inches of natural snow and a new automated snowmaking system have allowed the resort to continue adding trails off the River Run Gondola and Montezuma Express lifts.

"With Keystone's early opening, and Breckenridge's plan to operate through Memorial Day, the two resorts will offer one of the longest ski seasons in the country, providing even more value for our Epic Pass holders," said Jody Churich, Keystone's VP and general manager.

Breckenridge, Colo., has received more than 42 inches of snow in the month of October, and may open early according to some reports—although the official website is still touting Nov. 8 as opening day. The resort had one of the longest seasons in the country last year, staying open through June 8-9.

Loveland Ski Area, Colo., opened Oct. 25 on a trail off the Chet's Dream high-speed quad. Loveland's COO Rob Goodell credited snowmakers for the early start to the season, saying just before the resort opened, "Our snowmaking team has been working around the clock to get the mountain ready." Between snowstorms and snowmaking, Loveland is looking to add more terrain this weekend.

At Lake Tahoe, Mt. Rose also opened Oct. 25. It was the first resort to start spinning lifts in California this season. The resort opened with no natural snow, but with two beginner trails thanks to snowmaking. It will be closed during the week and open on the weekends until temps and coverage allow for a seven-day schedule.

Wild Mountain, Minn., opened its terrain park, Front Stage, and two rope tows Tuesday, Oct. 29. The resort is expecting to add two new runs and a chairlift to its offerings this Friday. Wild is typically the first to open in the Midwest.

Wolf Creek, Colo., which beat A-Basin to open first last year, will open on Halloween this season, with the Lynx Lift and a haunted house. Ski school programs will be available this weekend. Sipapu Ski Resort in New Mexico also plans to open Thursday, Oct. 31, three weeks early. The ski area has a 12-inch base. It will run a weekend-only schedule until Nov. 22, when it opens for daily operations.

Eldora, Colo., is opening on Nov. 1, two weeks ahead of schedule, one week earlier than last year, and three weeks before its historic average. It will be the earliest Eldora has opened in 22 years. The resort expects to offer intermediate and advanced terrain off the Alpenglow high-speed six-seater, as well as some Woodward Mountain Park features and private lessons. Snowmakers are aiming to open more terrain as soon as possible.
"We are beyond stoked to be one of the first resorts in America to open, again," said Brent Tregaskis, president and general manager. "We've been blessed with more than two feet of natural snow already this month, plus ideal snowmaking conditions. Eldora has a loyal family of skiers and riders and we're thrilled to give them just what they want—our earliest opening day in more than two decades."
Monarch Mountain, Colo., is also opening Nov. 1—it's earliest opening in 50 years. The mountain received 17 inches and counting this week, and will open with 100 percent natural snow. Monarch plans to offer nearly 20 beginner, intermediate, and advanced trails and will operate three lifts. "We are super excited to get a little bit open this early," general manager Randy Stroud told news outlets. "Let the fun begin."

While it's winter in Colorado, it is definitely still autumn in the East. Last year saw several historically early openings at eastern resorts; this year things have been warmer and wetter. Killington, Vt., and Sunday River, Maine, both typically open early—before or by Halloween—but neither has a projected opening day for the season yet.

Killington communications and PR rep Courtney DiFiore notes that temperatures "are going down and staying low through the weekend into next week, which is looking up for snowmaking." In the meantime, the resort is still offering lift-serviced mountain biking on the weekends.