SAM Magazine—Burlington, Vt., Nov. 21, 2019—Jake Burton Carpenter, the pioneer who popularized snowboarding and helped turn it into a sport, a billion-dollar business and Olympic showpiece, has died at 65.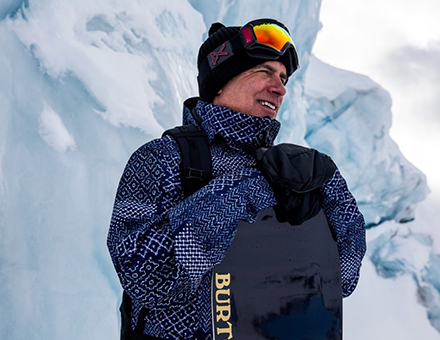 Carpenter died Wednesday night in Burlington, Vt., from complications related to a return of testicular cancer, which was first diagnosed and treated in 2011. Carpenter had emailed his staff earlier this month saying, "You will not believe this, but my cancer has come back."
He began devoting his life to snowboarding after quitting his Wall St. job in New York in 1977 to form the company now known simply as Burton. He developed prototypes in a garage in Londonderry, Vt., and tested them at Stratton Mountain. Carpenter worked doggedly to launch the sport, convincing resorts to allow snowboarding and developing the economic ecosystem to support it. That snowboarding is now a major part of the Winter Olympics and pursued around the world is a testament to his success.
Burton was a driving force for the snowboarding lifestyle and culture in addition to being a premier board manufacturer. The company sponsored many of the sport's top riders at one time or another, from Shaun White to Kelly Clark to Chloe Kim, as well as major events, such as the U.S. Open.
Carpenter extended the Burton brand into apparel and other gear, and his company became the largest snowboard company in the world. The company lived the culture by promoting equity for women and becoming one of the first B Corp companies in winter sports.
"He was our founder, the soul of snowboarding, the one who gave us the sport we all love so much," Burton co-CEO John Lacy said in an email to the Burton staff on Thursday. "This all happened very sudden, and it's a tremendous loss for his family, his friends and all of you."
Carpenter had survived other health issues in recent years, including pulmonary embolism and the rare Miller Fisher variant of Guillain–Barré syndrome, a serious neurological disorder.
Lacy said details about the celebration of Burton's life would be coming soon but, for now, "I'd encourage everyone to do what Jake would be doing tomorrow, and that's riding. It's opening day at Stowe, so consider taking some turns together, in celebration of Jake."
Carpenter resided in Stowe, Vt., with his wife, Donna and his son, Timi. He is survived by them and two other sons, George and Taylor.