SAM Magazine—Burlington, Vt., Feb. 27, 2020—Many resorts saw the usual uptick in crowds over Presidents' Day weekend and into the midweek, despite some experiencing a mixed bag of weather prior to the holiday. The weekend, and the holiday week in the Midwest and Northeast, was strong all along the northern tier and in the Rockies.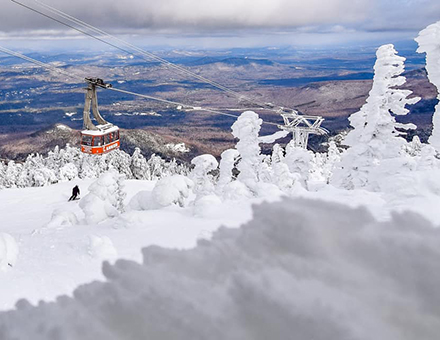 At Cannon Mountain, NH., "weather was about perfect," according to Greg Keeler, director of sales and marketing.

FAR WEST
Heavy snowfall continued in the Northwest, drawing huge numbers of visitors eager to enjoy the substantial base and powder covering the mountains. Mt. Baker, Wash., is boasting the biggest snow year in North America, and skiers have taken note. General manager and president Duncan Howat said the resort experienced "turn-away crowds" over the long weekend as parking lots reached max capacity by 9 a.m. "Ski visitation is going crazy," Howat said. "We had good weather and good snow. People are excited."

While business levels were generally on par with last year up until Presidents' Day, Howat said the three-day weekend "caught up with and surpassed last year, significantly."

In California, skiers and riders have been less fortunate, as mountains have received less snow than their northern neighbors. In the Sierra, snowpack is only half of what it normally is this time of year, with the Southern Sierra reporting only 44 percent of normal snowpack.

Michael Reitzell, president of Ski California, said the upside of the dry weather was sunny skies and clear roads that made holiday traveling easier, though business was negatively affected as well.

According to Reitzell, crowds were "fairly close to expectations, which are typically quite high for Presidents' weekend. Parking lots and lessons were full at some of our resorts. It's been a lot more like spring skiing lately than what we would like mid-winter. The conditions, however, are quite good at the higher elevations, with the early-season snow pack holding strong."

Though revenue figures have yet to be released, Reitzell surmised that California resorts are underperforming compared to last year, when mountains got "Februburied" by record snowfall in some areas. Still, the holiday weekend was a boon to resorts experiencing an early-February downturn. Plus, Reitzell added, "Long-term forecast models for March are looking promising."
ROCKIES

In the Rockies, resorts have been experiencing above average snowfall and enjoyed a typically bustling Presidents' weekend. Vail saw a bluebird weekend with 9 inches of new snow on Sunday and Monday. Lift lines were full but nowhere near as crowded as they were the previous weekend, when nearly 3 feet of snow in 24 hours brought so many skiers some people waited 2 hours to ride lifts.

Jeff Hanle of Aspen Snowmass said Presidents' Day weekend business was "steady across all four mountains, but not record-breaking. Ski school was particularly busy, as we traditionally have a large number of families and regular ski school guests in resort over the weekend.

"We were probably a tad below last year on total skiers, but nothing significant. Our snow has been steady and above average all season, currently we are sitting at about 120 percent of average snowfall," Hanle said.
Snowbird in Utah has been one of the snowiest places in the country this winter, which helped boost visitation during the holiday, according to spokesperson Brian Brown. After a strong holiday weekend, 18 inches of snow fell on Presidents' Day before a high-pressure system brought bluebird days the rest of the week, which also made travel a lot easier through Little Cottonwood Canyon. Brown said overall visitation was up for the entire holiday period compared to last year.
At Taos Ski Valley, N.M., the holiday period continued what has been a successful winter there so far. "Presidents' weekend and the following week have been strong for us," said Taos chief administrative officer Dawn Boulware. "Business was up as it has been all this season." Boulware said great snow conditions have helped, and the outlook for March is very good. Plus, midweek visitation overall has been steadier than in past years, which is always good news.

MIDWEST

Ski resorts across the Midwest enjoyed healthy crowds around Presidents' Day. Caberfae Peaks, Mich., reported more than double the visitors on Saturday and Sunday compared to past holidays, and still enjoyed an uptick in business on Monday. General manager Pete Meyer said the resort benefited from its substantial snowmaking efforts in addition to several inches of fresh snow during the weekend, which attracted unusually large numbers of guests.

Elsewhere in Michigan, Crystal Mountain is reportedly already exceeding sales revenue from last year, while Boyne Mountain is beginning to experience positive growth—though not to the degree of its record season last year.

At Lutsen Mountains, Minn., skier visits were "strong but almost identical to the prior year," according to co-president Tom Rider. "We have had excellent weather this season—abundant snowfall and moderate January temperatures. Presidents' Day weekend followed suit, with nice weather and a little fresh powder, so skiing conditions were superb," Rider said.

EAST

Mild weather and modest amounts of midweek snow attracted crowds in the Northeast, despite an otherwise forgettable winter in terms of snowfall. Killington spokesperson Courtney DiFiore said "the planets seemed to align," as the resort enjoyed record attendance over the holiday weekend. "Offering the most available terrain in New England paired with great weather certainly played a role," she added. "We kicked off the weekend with 4 inches of new snow Friday night, before having bluebird days Saturday and Sunday, and ended the weekend with 5 inches of snow."

In New Hampshire, business was likewise booming at resorts across the state. The sunny skies, mild temps, and fresh snow brought large crowds to Waterville Valley, according to communications manager Stacie Sullivan. "Sunday was our busiest day of the week, given the long weekend and it being the start of Massachusetts' vacation week," she said. "We also had international schools visiting from Ireland and the UK [total of 480 students], so our ski school, rentals, and food and beverage departments were kept busy." Sullivan gave props to the Waterville staff, which she said came together as a team to make operations run seamlessly.

At Cannon, "weather was about perfect," according to Greg Keeler, director of sales and marketing. Keeler said visits from Saturday through Presidents' Day were 6 percent down compared to last year, but then things turned around: By Thursday, Cannon was about even year-over-year. By the end of Sunday, total visitation for the nine days, Feb. 15-23, was up 23 percent compared to the same period last year. "[We] recorded the most Presidents' week visits of the past decade," Keeler said.

Jim Trust of Shawnee Mountain, Pa., said that attendance for the all three days of the weekend was "very strong." Despite a warm and rainy midweek, Trust said cold temperatures "returned on Thursday and Friday nights, and our snowmaking crew was able to put a fresh machine-made packed powder surface on all the open 23 trails, 2 terrain parks and in the tubing park, just in time for a cold sunny Saturday morning."

Trust said that the holiday weekend crowd was comprised primarily of families, as is typical. "Our ski school was packed with first-timers and our three-hour SKIwee and children's lessons were sold out all three days. More than 55 percent of our holiday skier visits rented skis or a snowboard from our rental shop, and our snow tubing sessions also sold out all three days."

It was a similar story in New York, according to ISKINY president Scott Brandi, who said business was up throughout the state, with some resorts breaking visitation records. Excellent weather—blue skies, reasonable temps—contributed to the success.
Holiday Valley was one of the resorts that saw record crowds, according to director of marketing Jane Eshbaugh. "We had record-setting days on the 15th and 16th, with the rest of the week continuing to be very strong," she said, adding that great conditions "aligned perfectly" with the holiday week.
Also in New York, Bristol Mountain "had a near record week," according to general manager Dan Fuller. "We noticed a lot of beginners came out, lots of young families with kids ages two, three, and four out on the carpet. It was nice to see them getting out and embracing our sport," said Fuller.
Tell us how your ski area did during the Presidents' week holiday in the comments below.
Report by Clint Carrick