SAM Magazine—Broomfield, Colo., March 4, 2020—Next season's pass wars are off and running. Alterra announced several days ago that it will put its 2020-21 Ikon passes on sale March 5. Not to be outdone, Vail Resorts' Epic, with a new Northeast Value Pass and mountain rewards, went on sale March 3. Other resorts beat the big two to the punch, or are quickly following suit.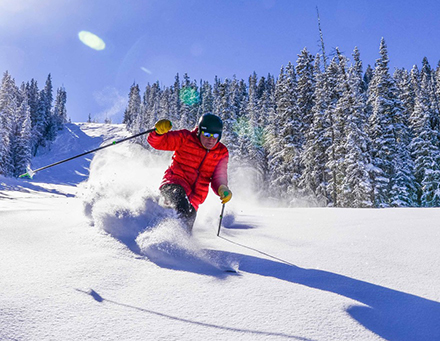 Here's a rundown of the opening shots:
Epic: Vail's new Northeast Value Pass ($599; $419 for college students) offers unlimited, restricted access (i.e., an unlimited number of days except for holiday blackouts) to Okemo, Mount Snow and Hunter, 10 restricted days at Stowe (i.e., 10 non-holiday days), plus unlimited, unrestricted access to Wildcat, Attitash, Mount Sunapee, Crotched, Liberty, Whitetail, Roundtop, Boston Mills, Brandywine, Alpine Valley, Mad River and Mt. Brighton. A new Northeast Midweek Pass, with five restricted midweek days at Stowe, is $449.
Next season's Epic Local Pass is $729 ($659 for college students). The full Epic, with unrestricted access to all 37 of the Vail Resorts-owned and operated properties plus additional access to partner resorts, went on sale for $979.
New for next season, every Epic product will come with Epic Mountain Rewards, (i.e., season pass benefit)—20 percent off food and beverage, lodging, group lessons and rentals at all of Vail's North American properties. Passholders need only present their pass at the register or log into their online reservation account to get the discount.
Ikon: Ikon's 2020-21 pass ($999; renewals, $899) will go on sale March 5. The pass offers either unlimited access at more than a dozen resorts, or seven-day and seven-day combined access at others, for a total of 40 worldwide destinations with no blackout days.

The Ikon Base Pass ($699; renewal $649) offers unlimited access to more than a dozen resorts, and five-day and five-day combined access at others for a total of 38 destinations, with select blackout dates. New for next season, Ikon Base passholders can add five days at Jackson Hole and five days at Aspen Snowmass, with select blackout days, for an additional $150.

The new Ikon Session Pass 4-Day ($399 adult) offers four days at any of 30 Ikon Pass destinations, with select blackout days.

Also new, passholders get immediate access to six select resorts, and spring access (starting April 14) to six more with their 2020-21 Ikon Pass.
Angel Fire, N.M.: For the first time in its history, Angel Fire put next season's passes on sale before the current season has ended. The pass ($449 adult, $329 young adult, K-12 teacher $109, etc.) went on sale March 2, and offers unlimited access, night skiing, and three free days at Powder Alliance partner resorts.
Snowbasin, Utah: Snowbasin, an Epic partner resort, also put its own 2020-21 season passes on sale March 2. The passes include access for the remainder of this season (a point of differentiation with Epic Passes), plus 50 percent off at Vail Resorts properties next season. Snowbasin's Premier pass (no blackout days plus five days at Sun Valley), is priced at $789 (Young Adult, ages 19-26, $539), and includes a summer activities pass and other perks. The Value Pass, with blackout days, costs $589. There's also a two-area Sun and Snow Pass—three days each at Sun Valley and Snowbasin, then 50 percent off the window rate for additional days—for $369 adult, and $99 youth (ages 7-12). Youth Sun and Snow Pass is $19 with early-season purchase of an adult Sun and Snow Pass.
Solitude, Utah: On March 5, Solitude—part of Alterra/Ikon—will reintroduce its Ultimate Family Pass ($1,999) with unlimited full-season access and no blackout dates for two adults and two juniors. Solitude also has a new Midweek Pass with unlimited access and no blackout days or holiday exclusions for $649.
New Hampshire: Also March 2, next season's multi mountain New Hampshire College Pass ($289) went on sale. The pass offers unlimited access to Gunstock, Cannon, Cranmore, and Waterville Valley.
Bromley, Vt.: As with a growing number of resorts, passes include the remainder of 2019-20 season as well as 2020-21. A full pass—$925 adult, $615 juniors, $475 seniors—includes a one-day summer adventure pass and a slew of perks, plus various discounts at Jiminy Peak and some Mountains of Distinction resorts. A Super Value pass ($495 all ages) includes the same perks, but comes with 16 peak-period blackout days for major holidays. Sister resort Jiminy is also selling next year's passes, which are good for the remainder of the current season as well, and all three Fairbank Group areas (Cranmore, N.H., is the third) offer a 3 Mountain College Pass ($329).

Report by Linda Goodspeed