SAM Magazine—Ludlow, Vt., October 14, 2020—As new consumer-facing plans roll out, resorts remind guests to prepare for continued operational changes and challenges this winter. While reservation systems, capacity caps, and facility access will vary, guests can expect some consistency in protocols across the country and even internationally with the vast majority of resorts enacting the same physical distancing, mask-wearing, and chair riding precautions.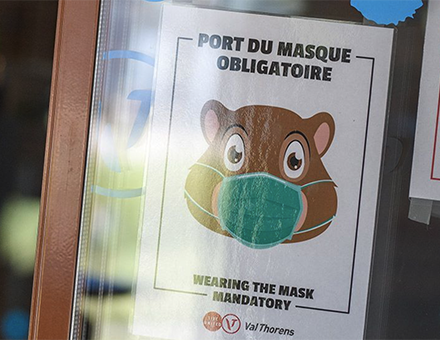 Just look at Val Thorens in France, which Forbes named one of the safest places to ski in Europe this year. The resort has been awarded a "Clean United Label" by European Best Destinations (EBD). The Clean United Label represents a promise to adhere to guidelines and recommendations to control the spread of the virus. The guidelines focus on practices like mandatory masks, sanitation stations, frequent surface disinfection and physical distancing measures, not dissimilar to the NSAA's Ski Well, Be Well recommendations being adopted across our domestic resorts.
In the West
Deer Valley, Utah, is scheduled to open Dec. 5. The Alterra Mountain Company-owned resort will be adopting flexible capacity limits this winter. Ikon and resort season passholders will not require reservations, but all-day ticket holders will need to purchase in advance.
Deer Valley has also relaxed its lodging cancellation policies and is modifying its food and beverage operations. Full-service restaurants will require advanced reservations for daytime and evening dining, but the resort has increased its grab-and-go offerings. These new F&B outlets will operate out of tents on Deer Valley's outdoor decks, and decks without tents are set to be outfitted with firepits and heaters.
Taos Ski Valley, N.M., is expected to open Nov. 26. The resort will operate at 50 percent of peak capacity for the entire season. The resort has eliminated its shuttle service and large public gatherings, and, as an additional precaution, it will be going cashless for all dining, rentals, tickets and retails.
Taos lift tickets will need to be purchased in advance online and Ikon season passholders will also need reservations. The resort has released new season pass options, including a mid-week pass and a weekday plus pass, to reflect many guests' new work and school schedules. Pass sales will continue through Oct. 25 but may close earlier if demand is high.
Coming on the heels of a summer of capital improvements, Aspen Snowmass, Colo., will drop ropes on the winter season Nov. 26. Several of the enhancements support new COVID-related operating procedures. Snowmaking upgrades will allow for better early season coverage. And the new Aspen Snowmass Account Portal will allow guests to manage and complete the check-in process online before arriving on-site and provide access to digital waivers, registrations and booking systems. Similar services will also be provided through an updated app.
Additionally, Snowmass has rolled out a new product line-up, including a weekday pass and a non-date-specific 7-day pass. The resort will be giving away complimentary 7-day passes to local teachers, school workers and select frontline workers at area hospitals. Snowmass intends to start the season without requiring reservations for Aspen Snowmass product holders, although it warns that reservations may be necessary later in the season.
Bogus Basin, Id., plans to extend its night skiing hours to take some pressure off of peak, daytime skiing. During peak period, lift ticket sales will be limited until night skiing begins at 3 p.m. to better manage capacity. The resort is also implementing a load with your party protocol and lift attendants will only fill every other chair when the resort opens on Nov. 27.
Sugar Bowl Royal Gorge, Calif., which paused season pass sales in Sept., has released a detailed winter operating plan. In addition to mandatory face coverings, a reservation system, and a ride with your party policy, the resort is instituting several new measures. Indoor access will be limited to restrooms and warming zones for 15-minute increments. Payment transactions will be touchless. All food and beverage services will be grab-and-go. Plus, new RFID gates will allow for direct to lift access. The resort has also instituted a "Care Team," responsible for communicating protocols to guests, monitoring indoor facilities and sanitizing surfaces throughout the resort.
Mount Baker, Wash., scheduled to open Nov. 26, is planning to restrict the number of visitors depending on conditions. While the resort is not starting the season with a reservation system, should one become necessary, priority will go to passholders. Indoor areas will operate at 30 percent capacity. The mountain is also requiring face coverings and indoor and outdoor social distancing.
Mission Ridge, Wash., is planning to control capacity by limiting day tickets. The mountain does not have a reservation system for passholders, and single day products are not currently on sale. Guests are encouraged to buy tickets online once day tickets become available closer to Nov. 27, when the ski area plans to start spinning lifts.
Alaska's largest resort, Alyeska, will have a no mask, no service policy this winter. It will also have reduced tram capacity and cars will be sanitized between rides. Reservations will be required for rental, and the day lodge will be closed for the season. The resort is looking to limit cash transactions as well.
In the East
Wachusett, Mass., is encouraging guests to use their cars as their home base this winter. Carpets will be provided to help guests boot up in the parking lots. Because of limited indoor capacity, the resort has also invested in heated benches from Dragon Seats, windscreens, additional picnic benches and LP gas heaters to encourage guests to remain outside. Reservations will be required for indoor dining, and the resort is increasing its outdoor takeaway F&B options. Guests will be required to purchase lift tickets in advance, and hill time will be blocked out in 4 hour and 3 hour sessions. The resort hopes to be open Nov. 15.
Holiday Valley, N.Y., is targeting its usual Thanksgiving opening day. Chairlifts will have a maximum of 2 to a quad, unless a larger party arrived together. While the resort doesn't expect to have to limit capacity, guests are being encouraged to pre-book online and snow tubing tickets will only be available online. Capacity restrictions will be in place for indoor facilities, per state guidelines.
In an email to guests, Bromley, Vt., president and GM Bill Cairns noted that Vermont's cross state travel restrictions present a significant challenge to operations this winter. The resort anticipates a fluid situation this winter that will require regular updates to its operating plan.
Bromley, along with 14 other ski areas in the state, will be adopting health and safety guidelines put together by the Vermont Ski Areas Association (VSAA). The resort has invested in new technology to allow for contactless payment and less person to person interaction during lift ticket pick-up and equipment rental. It also expects to have reduced indoor capacity and is encouraging guests to boot-up and warm-up in their cars when necessary. Bromley will open Nov. 27, weather permitting.
New Hampshire ski areas will be following state-wide reopening guidelines. The guidance was drafted by SKI NH and approved by New Hampshire governor Sununu. It follows recommendations from existing NH guidance for F&B, child care, retail stores, amateur and youth sports, performing arts, and various CDC guidance. Recommendations include standard provisions like face coverings for guests and staff, ride with your party chairlift protocols, enhanced cleaning and sanitization, more online ticket sales, and indoor capacity and physical distancing requirements.
By Katie Brinton