by Roger Lohr
The Cross Country Ski Areas Association (CCSAA) has been conducting online sessions with members since last spring, focused on sharing information about how X-C operations should respond to the Covid-19 pandemic. Discussions resulted in widespread adoption of plans aimed at minimizing risk of virus transmission for staff and guests.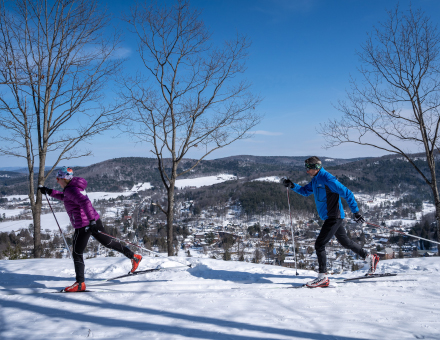 Cross country skiing in Woodstock, Vt.
For example, many X-C ski centers have adopted e-commerce, and are requiring online purchase of trail passes, rental equipment, and lesson reservations. Plans to alter the flow of ski area traffic on the premises and in buildings for safe distancing, as well as limiting or eliminating indoor capacity, have also been put in place.
With plans ready, the onset of winter has come—and business is booming.
High Demand
As per usual for the cross-country ski business, there is snow in some places and a lack of snow in others. But one thing is consistent­ and fresh—at least since August, X-C ski equipment has been flying off the shelves.
There are shortages for popular sizes of skis and boots. Bindings and ski poles are also hard to find. Manufacturers have been unable to supply enough product to fill the dealers' needs. Adding to the shortage, an October fire at a huge Ukrainian factory that reportedly produces a majority of Fischer skis, in addition to other brand's skis, has further hampered the ability to meet demand.
During the most recent CCSAA session on Jan. 6, Salomon USA manager Robert Lazzaroni implored ski dealers to order now so he can make his case to increase his forecast with the European-operated company. He said that it has been a very unique year and he suggested that dealers sell whatever they can and place their orders for next year's inventory as soon as possible.
That same session began with CCSAA executive director Reese Brown stating that the CCSAA website has had a 199 percent increase in traffic during December, and they experienced unprecedented traffic to access results of a CCSAA survey.
Great Start
X-C ski area operators attending the meeting were upbeat about the demand and the level of business this winter, so far.
Christie Hicks of Crested Butte Nordic Center, referring to the two weeks before Thanksgiving when the center in Colorado first opened, "We were slammed from the beginning, and the holidays have been through the roof with five of the seven days during the period being the biggest ever." Crested Butte Nordic's season pass sales were up 40 percent and rental revenue was up more than 100 percent.
First timers at Crested Butte Nordic over the holiday enjoyed good snow conditions and great weather. The center also welcomed alpine skiers who failed to reserve tickets in advance and were turned away due to downhill capacity restrictions.
Richard Hodges of White Pine Touring in Park City, Utah, described "business being relentless, as everyday is as busy as a great Saturday."
Pandemic-related changes may become permanent, said Hodges. "We may never go back to group ski lessons except on holidays or busy weekends because we earn more per private lesson and skiers are happier," he said. In addition, "The online retail sales are up 300-400 percent, with all the beginner gear sold out and significant gaps in the inventory, but we are hopeful that we can get more products from suppliers by the late winter."
"With regard to our retail equipment, we are now almost all sold out," explained Dustin Hite of Osceola Ski & Sport Resort in northern New York. Indoor capacity is limited to 50 percent per the state, but all the rentals are out on most days and season pass sales have been very strong, said Hite.
In Vermont, the Woodstock Nordic Center, which relies on guests at the Woodstock Inn & Resort, doubled sales of season passes compared to other years despite a 50 percent decline in occupancy at the Inn.
"We're sold out of ski poles and bindings," said manager Nick Mahood. "We had our biggest day ever for revenue leading up to the holidays, and then there was a rain out." The increased business has occurred despite Vermont's restrictive travel policy. Mahood said that many local people who left the sport for years were coming back with their old gear that they want to get tuned-up, providing brisk business for the ski shop.
In Truckee, Calif., Tahoe Donner Cross Country is experiencing a low snow winter so far, but has had strong season pass sales. According to area operator Sally Jones, the state has set capacity limits, which is impacting the rentals and food operations. The health authority opposes eating at the premises—even outdoors—because it wants to minimize congregation on the area's patio.
Whitegrass Touring Center in West Virginia has been open for 42 consecutive days this winter with high demand, many skiers, and many beginners, too. Chip Chase, longtime operator at Whitegrass, quoted industry legend Klaus Obermeyer: "The snowsports business is 85 percent snow and 15 percent economy."
Wise words, but the pandemic has proven that business might be subject to something more than snow and economy for X-C ski businesses across the nation.