June 30, 2014 -- Gregg Blanchard
As I mentioned last week, email is lacking on the creativity side of things.
We're pumping lots of clever ideas into lots of channels, but not the one where consumers have overwhelmingly indicated that's the place they want their offers.
This lack, however, creates opportunity because small improvements can really stand out.
The Clymb
A few weeks ago Joe Myers, who needs very little introduction, tweeted this: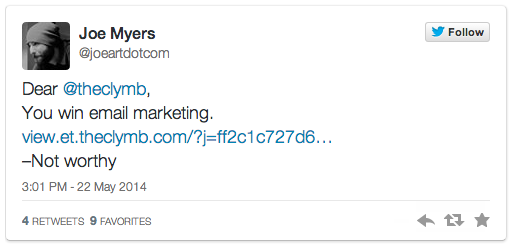 And to what was he referring? An email that used this as the header image: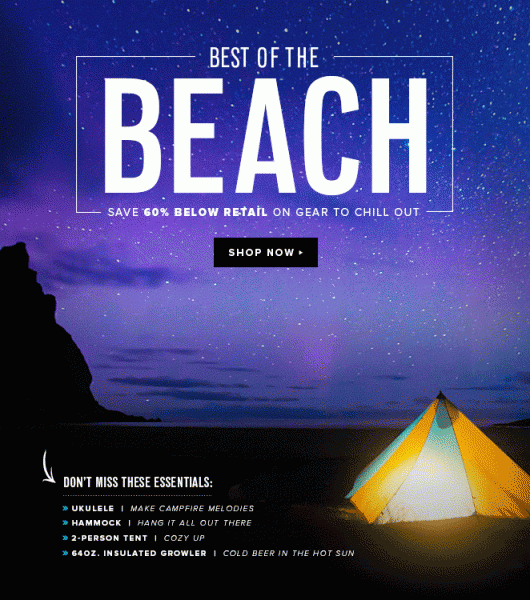 It seemed to break every rules in email marketing, but there it was glistening in his inbox.
A GIF of a timelapse is nothing new, but in an email? That turned heads.
Why Not
So why not give it a try?
It took me maybe 15 minutes to stitch this GIF together by taking screenshots from a random YouTube video and a Chrome extension to help me advance the frames.
But even in my haste it turned out pretty slick: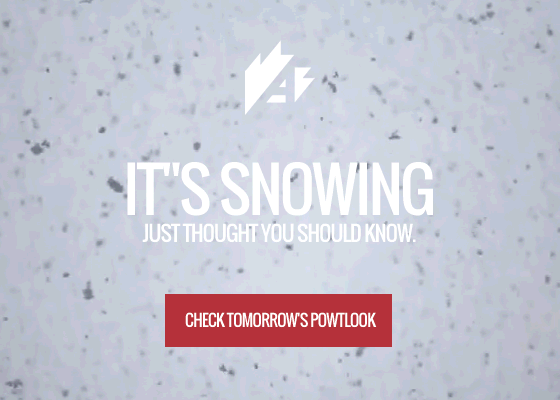 I designed this based on an idea I shared a while back of sending a report/alert email the night before when there's time to make plans and, combined with a quickly hacked GIF, definitely bring more of that "I love watching the snow fall" feeling than a static image ever could.
Maybe it will get stuck in more spam filters, maybe a 0.5mb file will freak out your skiers who view it on mobile, maybe…maybe…maybe.
Then again…maybe not.
>> To join the discussion CLICK HERE. For a complete list of Gregg's posts and market analysis, visit SlopeFillers.com.