August 13, 2014 - Gregg Blanchard
In our family's pile of games in the living room, one of the more frequently used items is a deck of cards.
Now, playing cards are an interesting thing. No? They're designed to relate in multiple ways to all the other cards, but unique enough that there is only one of each card in the deck. But, face value aside, there's not much there to make any one card more memorable than another.
Except for one.
Golf
I'm sure there are a million names for the game, but golf (as it's called in the circles we grew up in) is one we play from time to time.
The rules are as you'd expect them to be with one difference: if you are dealt a certain five, you have to turn it over.
But golf is dealt face down, so how do we know it's a five? Because only one card in the desk is marked. Once we saw the mark, one we realized the mark was on a 5 of clubs, we couldn't unsee it.
See the mark, think 5 of clubs. Automatic.
The Pattern
That's a pattern you see over and over. And it's one that I think carries a valuable lesson in marketing.
Here's the example I'm getting to. Dozens of resorts are offering 4×4 tours, scenic lift rides, Segway tours, etc., etc., etc. but only one of them features a Sasquatch doing all of these activities: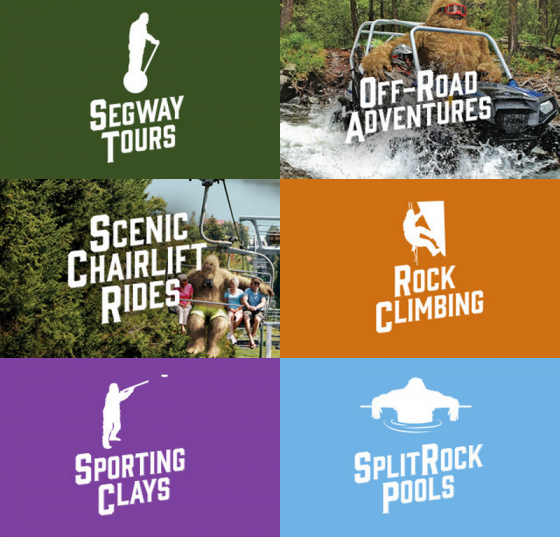 The website, their social presence, and every other piece of marketing that has reached me this summer has be accompanied by Wooly Ted's friendly, furry face.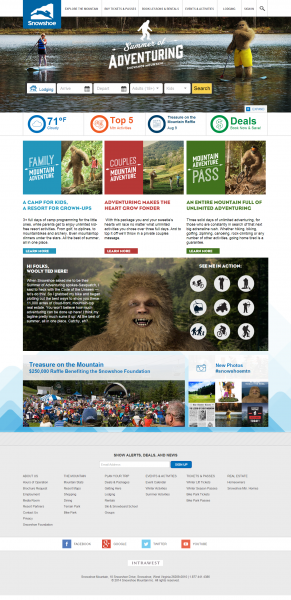 And every time I've seen one, a single thought has been in my mind: Snowshoe.
But Gregg!
Is a Sasquatch in all of your marketing a bit cheesy or lame? Maybe. Is it a little weird to have a 10′ tall hairy beast with his arm around kids and holding their hands? Possibly.
But here's the thing: I notice it and I remember it. I've seen thousands of bits of resort marketing this summer, but these are the only such bits where I can recall, with confidence, both the message and the sender. In effect, the Sasquatch is Snowshoe's mark on a deck full of incredibly similar marketing cards.
On that alone, I call this campaign a huge, huge marketing win for Snowshoe.
>> To join the discussion CLICK HERE. For a complete list of Gregg's posts and market analysis, visit SlopeFillers.com.