SMARTLOFT SmartWool incorporates its progressive puffy SmartLoft wool technology, offering warmth without bulk, throughout its midlayer line (here, combined with traditional SmartWool fabric). It's said to exhibit better temperature control, breathability, odor management and maintenance than traditional goose or synthetic down. Merino effectively transports moisture in the vapor state away from your skin, before it has a chance to turn into sweat, guaranteeing all-day comfort and dryness.


tradition update One of the biggest lifestyle trends at this year's show was brands rediscovering their roots and modernizing traditional looks. One example: Dale of Norway's Fjellanorak jacket for men and women blends authentic Norwegian craftsmanship and retro design. The company also lightened its one-of-a-kind knitshell weatherproof technology by using fine two-ply wool, a 14-gauage knit and stretchy membrane. The piece features an easy-access zip on the side, knitted merino wool inner cuffs, and a hood with a detachable fur collar.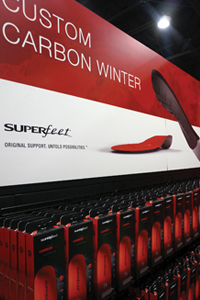 Fits like a glove
Superfeet introduces an all-new custom footbed that's ready in 15 minutes, no grinding required. The custom carbon winter insole is molded with the new fitPOD machine, a laser guided process that fabricates the footbed. The revolutionary material combines the strength of carbon fiber and the company's proprietary polymer to make a lightweight yet supportive biomechanical memory material. Superfeet says it's especially suited to customers who prefer to rent, but still want a custom fit.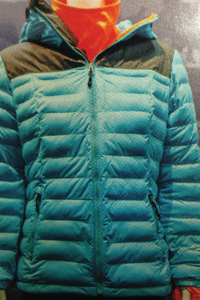 STRETCH IT OUT
The Stretchy Puffy from Sync employs an innovative construction that combines a highly dense knit fabric with a small denier yarn for 360-degree stretch that is unlike any other softgood in its category. (Trust us, we tried it!) "We found a knit construction that was durable enough to be used in performance outerwear," says Sync co-president Phil Shettig. The insulation is Primaloft Luxe, a 100 percent synthetic down. The stretch-puffy concept is also available in an outer shell style.