Snow Trails :: Efficiency
---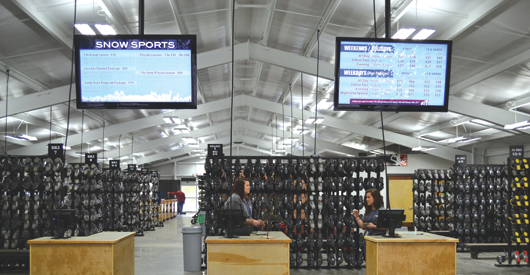 Digital message boards greet renters at the Snow Trails (Ohio) rental shop cash registers.
Snow Trails is a skier and rider factory. Two years ago, to better accommodate renters, the area built a new facility, expanding from just 1,300 square feet to 9,000. That gave Marinella a chance to rethink the overall layout and design.
"We thought about where the traffic jams were," he says. "We had a bottleneck at the front door and registration." So the area installed a 15-foot sign-in counter, and adds stanchions for busy times. Two staff assist guests with the forms during peak periods. (Snow Trails still uses paper; Marinella says that is still faster than electronic registration for the guests.) With three registers, "there's hardly any wait time," Marinella says.
Another bottleneck was bootfitting, with staff handing out boots. So the shop shifted to assisted self-service. The boot area occupies the middle of the shop, with ski boots on one side, snowboard on the other. Guests can go to the boot racks, arranged by size, and try on boots. Staff (up to four) circulate to help those who need it. Guests can leave their footwear on the rack or in nearby lockers.
Armed with boots, customers proceed to the ski/board issue stations. These increased in number from 5 to 12, so guests get their gear quickly. For Alpine, Snow Trails uses the Rossi Flash system, which allow the shop to pre-set both sole length and DIN. Total inventory is about 1,200 pairs of skis, and 500 snowboards, along with a few pairs of snowblades.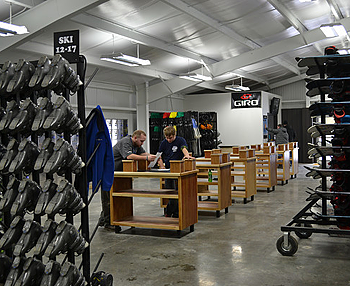 The shop layout makes it easy for renters to try on boots and then proceed to the ski or board issue stations. The boot racks double as dryers, and all stations and racks on are wheels, for flexibility in shop layout.
All racks are on wheels, so the shop can reconfigure as needed. For example, when lots of returns are coming in, boot and ski racks can be placed by the return door. Staff can then sort and reorganize them when they have time.
All these steps "really speeded up the whole process. And that was accomplished with less staff, and lower labor costs—eight percent lower," Marinella says.
While the labor savings could be greater, "You don't want customer service to suffer," he adds. "We found that we could cut costs by careful staffing, such as scheduling a lot of half shifts."
Bootfitting requires attention, he says. "You have to identify the beginners, which we do at the counter. They need some handholding. The staff has to help them get the right size quickly. Same thing with kids, you have to make sure they get a little extra help. I'll assign someone to a family, so that one person takes care of all of them."
School groups, he adds, require a lot of attention during their first visit or two, but then require less assistance once they learn the routine. "For the first week of groups, we have about 400 middle school kids, we'll put four people there, helping with fit, buckling boots, etc. Chaperones help out too."
The result of all the changes is that Snow Trails rarely has lines anymore. A family of four or five might require seven to 11 minutes; others can almost walk straight through.