This year's Mountain Travel Symposium focused on expanding the winter sports market. And the two-day Forum was full of great takeaways for a brighter future. There is a sea of change coming in our guests: are you prepared to be out in front? Are you communicating with guests and potential guests with the right tools?
The Mountain Travel Forum at Snowmass April 10-11, part of the larger Mountain Travel Symposium April 7-13, demonstrated that growing the winter sports market is on everyone's mind. Sessions focused on bringing new audiences to the mountains and using social media to both sell them on a destination and make their experiences more memorable once there.
Attendees and speakers all agreed that the future doesn't look at all like the past. Guests will be younger and more diverse, and the means of interacting with them will be broader, more mobile, and digital. That could lead to big changes in the way products are sold, from tickets and lunch to parking and reservations, and in the way resorts are marketed.
One novel idea: let the customer determine how much they are willing to buy. As technology expert Erik Blachford of Technology Crossover Ventures said, the sales paradigm is changing: guests are now in control of pricing. They are accustomed to getting a first taste for free, and then opting in for whatever additional services they want.
While some of the other ideas and concepts presented were not entirely new, there were a lot more concrete ideas and examples for resorts to chew on. Here are several session reports.
Social Media: Word of Mouth on Steroids
Word of mouth is still a marketer's best friend, and it's now being delivered by social media. Travel experts from Google and Facebook described the exponential growth in their involvement in travel; showcased new technology like Google Glass, which incorporate a small voice-activated point-of-view camera; and provided advice on how to connect with customers through current and future tools. And if a picture is worth a thousand words, video speaks volumes: it's becoming an important piece of the decision process for travelers.
Bloggers provide another source of trusted word-of-mouth. Hari Nair of Expedia said that 50 percent of Gen Xers look to bloggers for advice; overall, a 25 percent of travelers do.
Bloggers, of course, have independent voices, and as such may not be completely in tune with the marketing message. But that's part of the point: they have their own unique voice, and that authenticity makes them believable and trustworthy. Their organic advocacy can help you increase engagement and strengthen relationships.
That's the value of bloggers such as Park City's Snowmamas, as Krista Parry of Powdr Enterprises pointed out. Blogs are a fine way to reach a targeted audience, like moms. Millennials, the future core customers, are always engaged. Yes, marketers can't control the message and interaction, she said, but then, that control was lost years ago. The best you can do now is go with the flow and be involved.
That's equally true for mobile communications, which can usher in a suite of new services and, if handled correctly, new revenue streams. Sam Shank of HotelTonight, a last-minute booking app (2,500 hotels, 90 cities, 12 countries), described how a suite of apps on a location-enabled smartphone could serve as a sort of on-mountain remote control, Think of an app as a button on the remote, he said.
How would this improve the experience? For starters, resorts could sell tickets without a ticket window (or waiting line). Guide guests to the best parking places, most suitable trails, and shortest liftlines. Push lunch menus to guests shortly before noon, say, direct them to nearby restaurants (thank you, location services), and allow them to order ahead and reserve a table. The app could also alert the kitchen when guests are approaching the restaurant, so that food could be ready the moment guests arrive. That's efficient for both guest and resort, he noted. And why not offer line-cutting privileges on a busy day, or private lessons tailored to the terrain a guest has been on? Prices for both could be adjusted as supply and demand changes, minute by minute.
His five rules for apps:
• do just one thing, really well
• complete tasks quickly, efficiently
• offer limited selection (make choices easy)
• personalize the choices (based on previous purchases or choices)
• anticipate needs—know where customers are, and send reminders.
Marketing: Enlist Your Customers
Eric Blachford, a travel veteran and outside expert turned technology investor (Technology Crossover Ventures), urged resorts to enlist customers in marketing. For this, he noted the value of pictures. With changes in photo and video technology and the explosion of photo-sharing sites, resorts can tell stories via photos to grow their businesses. Or, more precisely, let their guests tell stories via pictures.
He cited "Betabrand" apparel, which enlists buyers to take pictures of their new togs, then puts those onto customized homepages of the Betabrand website. That is, customers buy, then take pictures of themselves sporting their Betabrand gear, which then take center stage on a Betabrand home page—which they are then encouraged to share with friends.
The key point is that every customer can have his or her own Betabrand home page. That gets buyers invested in the brand, and gives friends a closer connection to the brand as well. More than 7,000 people have thus become evangelists for Betabrand. That's one way to get your market to do your marketing for you.
This is "growth hacking:" convincing good customers to Tweet and otherwise spread the word about you. It works well for lots of online businesses, such as Dropbox, which gives free space to users who bring in new subscribers, and Surveymonkey, a free service that nonetheless generates $845 million in sales, via upgraded data analysis). Both rely on upselling of premium services and features. He and others suggested resorts should do similar: offer free skiing and riding for an hour, say, or for a portion of the mountain, and then upsell for extended/greater use, etc.
He also envisioned a use for Google Glass: give out the glasses to influencers—a freemium—so long as they share videos with friends.
Ian Arthur of Intrawest said that such "gamification" is a big cultural trend and getting bigger, and that the mechanics are readily available. Just about any resort can get into the act.
When it comes to making the sale, resorts should both create their own digital programs and work with partners, Blachford said: "You don't get to control how people shop. People want to shop how they want to shop." Some will come straight to a resort; others will use other, trusted sites, from Trip Advisor to Expedia. What matters is that they find their way to you.
A corollary to this idea is that a resort's online shopping experience has to be as good as the online leaders, such as Expedia or Amazon. That's what customers are used to. If you don't make shopping easy, people will shop somewhere else.
When it comes to easy, Blachford thinks big. In praising the Mountain Collective for its ease of purchase online (with back end support provided by Liftopia), he suggested that resorts go even further: create a pre-paid pass that's good for any ski area. The industry could even forge its own currency, similar to frequent-flier miles.
Blachford suggested resorts offer a "first ever" free ski pass bundled with "goodies" such as free ski and boot rentals. Asked how such a pass could be tracked effectively, he said, "it doesn't matter." Just get people hooked, he said, they will spend plenty in both the short and long run.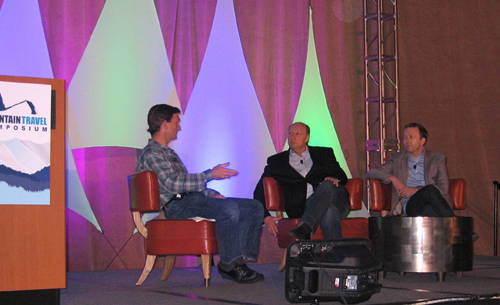 Photo: Travel technology expert Erik Blachford of Technology Crossover Ventures discusses the potential for improved customer communications with Ian Arthur of Intrawest and Christian Knapp of Aspen Snowmass.
Phocuswright Skier/Traveler Study
The latest skier/traveler study by PhoCusWright, a travel industry research and consulting firm, drew a lot of press, especially its discovery that people who ski and ride equally are the best customers. They travel and spend more, and more often. Alas, they are also a small piece of the overall pie, about 16 percent of the travel market.
The more relevant news, for most resorts, concerned the composition of the overnight traveler. They tend to be older, digitally connected (82 percent), and they rely on digital sources for their information. Half of them book online exclusively. So: enable people to buy digitally, even at the area, through an app via smartphone. Standing in a ticket line is so wasteful and inefficient, so 20th century.
A few surprises in the study: snowboarders described themselves as less adventurous than skiers describe themselves; and nearly two-thirds of destination travel planning is done by—of all things—men. They want to know about snow conditions, and how to minimize hassle for the family, too.
Executive Summit: Planning the Future
An ambitious three-hour Executive Summit drew about 100 winter travel leaders to explore how leadership, innovation, and passion could expand the winter travel business. The Summit repeated advice about enabling experiences through targeted apps and social media sharing, but went further. Intrawest CEO Bill Jensen predicted that more than 50 percent of future leaders will come from outside the industry, because they will have the skill set needed—including a broader view of recreation and marketing.
This session boiled down growth initiatives to several ideas that surfaced repeatedly throughout the conference: offer free or inexpensive learn-to packages, coupled with opportunities to upsell guests to a variety of services and activities; and create an organized national campaign.
While that sounds an awful lot like the "Got Milk" campaign and the reviled "Ski It to Believe It" program of 20 years ago, it at least shows that travel companies, like equipment and apparel suppliers, are becoming focused on growing the number of participants in winter sports. And social media may well provide a new way to reach a broad market without spending millions in general advertising. In general, the speakers and small-group discussions that followed them urged more risk-taking (as in trying a variety of new approaches to growing participation) and experimenting with pricing, which might be considered a subset of risk-taking.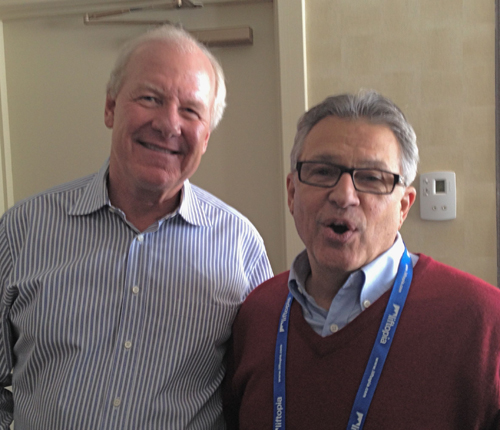 Photo: Intrawest CEO Bill Jensen (left) and SIA president David Ingemie spoke about leadership and the role it must play in shaping the future.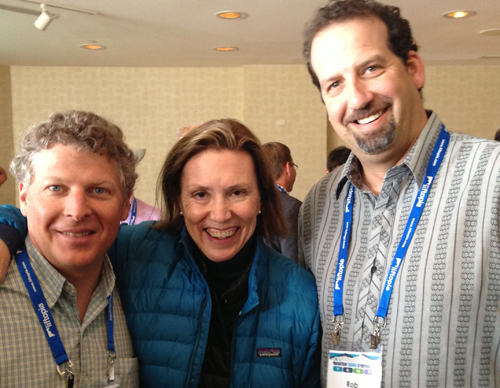 Photo: Colorado was well represented at the Forum's Executive Summit. Three players: Scott Fortner of the Breckenridge Resort chamber; Melanie Mills, president of CSCUSA; and Rob Perlman, senior VP of Steamboat.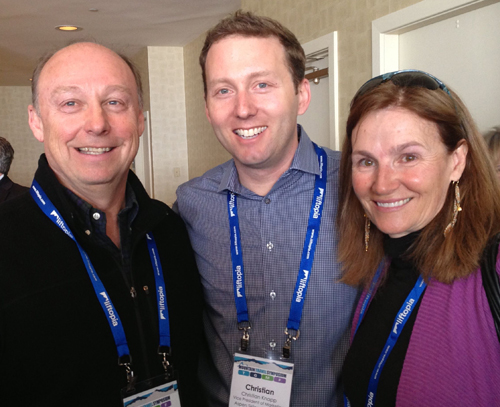 Photo: Marketers at the Summit: Intrawest CMO Ian Arthur, Aspen/Snowmass marketing VP Christian Knapp, and marketing consultant Lucy Kay.