SAM Magazine—Natick, Mass., Aug. 17, 2017—Registration for SAM's eighth annual Summer Ops Camp—a series of seminars, workshops, and site visits that explore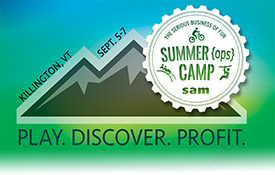 the state of the art in summer operations—closes Aug. 25. A few spots are still available for the Camp, Sept. 5-7 at Killington, Vermont.

Here is a sample day at Camp:
Wednesday, September 6
• Meet with 42 summer-specific vendors at the Vendor Showcase Breakfast. Browse the exhibits and demonstrations, and ask questions of experts at our new "Q&A Pods."
• Morning sessions at Killington's Grand Hotel start with master planning and project implementation, and how to navigate the pitfalls and complications that can arise between concept and completion. Next, a panel of experts describes the state of the fast-growing and ever-evolving aerial adventure business. A third discussion addresses bike park risk management and the new Mountain Biking Responsibility Code.
• After a networking lunch, afternoon sessions highlight the next big thing, glamping, and review the 10 biggest summer risk management issues. Then, the program moves outdoors. Campers get hands-on with workshops on mountain bike operations, aerial adventure parks and zip lines including the latest practices and technology for AAP rescue and assist methods. Or check out ResortBoards, which may well become a preferred means of in-resort transportation and profitable entertainment for your guests.
• Dinner at the mountaintop Peak Lodge includes a special presentation and a you-are-there glamping experience to wrap up the day.
And that's just part of it. The rest of the program includes more opportunities to engage with summer vendors, sessions on summer market intelligence and business trends, summer guest education, a new summer patrol program, summer staffing challenges, optimizing data to increase profits, and events. Plus, demos of summer products and activities, from cosmic tubing and the DJ Jump Tower, to night zipping, glow in the dark aerial park, and the Beast Coaster. Offsite tours include trips to Huttopia White Mountains, Highland Mountain Bike Park, and Adirondack Extreme, site of our first-ever Summer Ops Camp eight years ago. Check out all the details at www.summeropscamp.com
Register ASAP, as we are close to filling up the spots for this intimate hands-on gathering. Contact Olivia Rowan, olivia@saminfo.com, with questions.