SAM Magazine—Oberhofen, Switzerland, Jan. 21, 2019—The eighth annual World Snow Day held Jan. 20 encouraged would-be winter sports participants to try skiing and snowboarding. Word of the Day's 464 events, from South America to China, reached a reported 3.5 million people in 45 countries. World Snow Day was created by the International Ski Federation(FIS) as part of its "Bring Children to the Snow" campaign to promote skiing and snowboarding.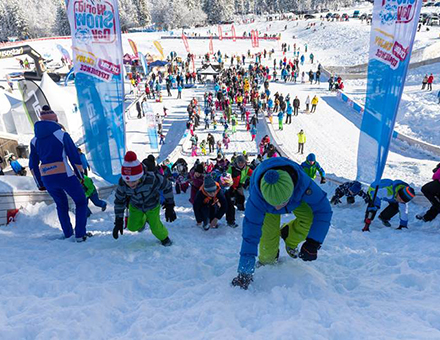 Events were staged on five continents. In South America, snow sports were showcased on sand dunes. In China, 113 resorts across the country provided a wide variety of activities, all aimed at bringing children to the snow. In addition, Canadian and a few U.S. resorts offered free lessons, free lifts passes, and on snow entertainment as part of the Day.
Europe saw the largest concentration of events, with some taking place in major cities, including Dresden, Germany, Stockholm, Sweden, Zagreb, Croatia, and Innsbruck, Austria.
FIS president Gian Franco Kasper remarked, "For many organizers, World Snow Day has become a tradition. Families in their area look forward to events and this is important if snow sports is to have a future."
Between the events and their exposure as participants shared them online, the FIS estimates that the World Snow Day message reached 3.5 million people. These numbers are further bolstered by media partners Eurosport, Infront Sports & Media, and the European Broadcasting Union, which integrated the World Snow Day trailer and events into their platforms.
Other sponsor/partners included MND Group, Atomic Skis, Best of the Alps, Protect Our Winters, the Federation of the European Sporting Goods Industry, the World Federation of the Sporting Goods Industry, and SKADI.World Snow Day 2019 organizers will soon be handing out the World Snow Day Awards, which recognize resorts' efforts for the Day.
For more information on World Snow Day, visit www.world-snow-day.com.