SAM Magazine—Bromont, Quebec, June 5, 2019—Preliminary results for the 2018-19 winter season show the 75 member resorts of the Quebec Ski Areas Association (ASSQ) saw 6.4 million total skier visits, up 4.6 percent year over year. It's also a 10-year high for visits in Quebec, beating the 2010-2019 average of 5.97 million visits by 7.2 percent.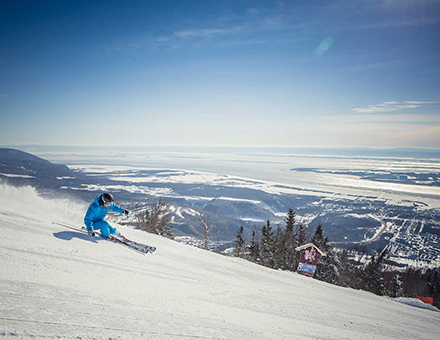 "For us, the 2018-19 season was very good given the hurdles we had to overcome," said Yves Juneau, CEO of the Quebec Ski Areas Association, citing a significant thaw just before the holiday period and a lackluster spring. "It helps when the season starts early," he said.
According to the Quebec Ski Areas Financial and Economic Study, presented by co-author professor Michel Archambault at the ASSQ annual conference in Bromont, season pass sales were up five percent, and day ticket sales were up 1.4 percent year-over-year. The study also shows that, despite climate change impacts such as shutdowns due to unfavorable weather, all ASSQ member resorts saw an increase in their number of operating days.
The season only just ended in Quebec, too. Sommet Saint-Sauveur was open for skiing and riding until June 2, tying the record for latest closing day of a Quebec ski area.
Report by Katie Brinton