SAM Magazine—Woodbury, Conn., Aug. 2, 2019—The SAM Summer Ops Camp in Gatlinburg, Tenn., is taking a new approach to seminars: it incorporates "pop-up discussions" into hands-on visits to a variety of summer operations. This format, along with new pre- and post-Camp tours and demos, expand the already chock-full program.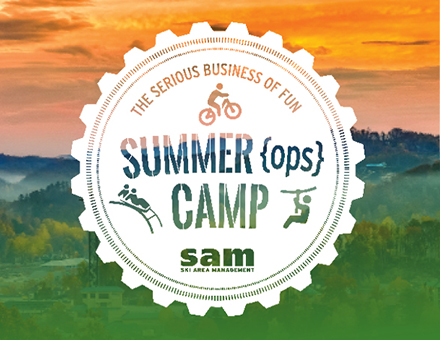 Local "connectivity"—the interaction between a summer operation and its neighbors—is a recurring theme, among others. Over the three-day Camp, campers will visit six different operations that exemplify new technologies, theming, and local collaboration. Discussion of risk management, behind-the-scenes operations and much, much more will pop up during the site visits. These sessions will explore the different ways each of the six operations has succeeded through connectivity to the mountain environment, community, customers, staff, and tourism generally.
Gatlinburg's varied attractions will take operators beyond what they already know and showcase a whole new way to view summer operations. Whether you are already in the summer game or are looking to enter it, the Gatlinburg experience will expand your horizons—and revenue potential.
Registration for Summer Ops Camp is open, and the limited space is filling up fast. Register today at saminfo.com/summer-ops-camp. Prices are all inclusive of all meals, drinks, activities/tours, lodging, demos, welcome bag, bluegrass music, moonshine tasting…everything. Packages start at $685.
Highlights:
HOT TRENDS: E-bikes have infiltrated every discussion about resort mountain biking over the past year. Camp offers the opportunity to demo a variety of brands on a mountain loop in the Smokies at Climbworks (also check out their spectacular zip tour and ground school building). Campers will also hear from the best in the industry about how to fit e-bikes into summer ops, either as a standalone activity or part of your mountain bike operation.
INTERACTIVE FORMAT: Our all new "Pop-Up" discussions on connectivity at Anakeesta, Ober Gatlinburg, Boyne Resorts' SkyBridge, the Lumber Jack Feud, and Rowdy Bear, led by SE Group's Claire Humber, will help campers understand the ways each destination succeeds in connecting with the local brand, community, local tourism board, and customers. These discussions will inform what campers take away from each destination.
TRY OUT NEW TECHNOLOGY: Experience the debut of the world's first SwitchBack™ zip line/coaster installation at Lumber Jack Feud. This Holmes Solutions product blends zip lines and coasters, thanks to brand-new technology that transfers from cable to rail at speed and provides extensive design potential.
Additionally, there is a full agenda of sessions, demos, and activities for each day. View the entire agenda and details on sessions at saminfo.com.
Questions about Summer Ops Camp? Email Sarah Wojcik for answers: sarahw@saminfo.com