SAM Magazine—Rangeley, Maine, Nov. 8, 2019—The owners of Saddleback, Maine's third-largest ski area, have reached a new agreement to sell the mountain to Boston investment company Arctaris Impact Fund. The sale is expected to close in mid-December.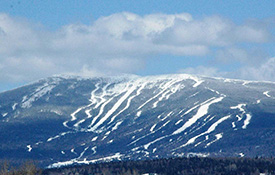 The resort went on the market in 2015, when current owners the Berry family determined that major capital expenditures were needed to continue operating the mountain. Several potential suitors have explored making a purchase, but none have pulled the trigger before now.
Arctaris first expressed interest in the ski area back in 2018 after one prospective buyer, an Australian developer, dropped out amid a fraud scandal unrelated to the resort. In June 2019, Arctaris and the Berrys signed a non-binding letter of intent to negotiate a sale, but negotiations fell through in September.
It seems the sale is now back on. The acquisition price was not disclosed, but Andy Shepard, former CEO of the Outdoor Sports Institute and Saddleback's new general manager, told news outlets that Arctaris plans to invest in significant capital improvements at the resort.
FROM THE SAM july 2015 ISSUE: REBIRTH OF A RESORT

According to Shepard, Arctaris plans to replace the old Rangeley Double chairlift with a high-speed quad, install a new T-bar, modernize the base lodge, expand facilities, and upgrade the snowmaking infrastructure. The work will be done with an eye toward reopening Saddleback in about a year, sometime between Thanksgiving and Christmas of 2020.
During their tenure, the Berrys made more than $40 million in improvements to the resort. At its peak, Saddleback was the largest employer in the county, and saw roughly 110,000 skier visits a winter.
Arctaris, which targets its investments in areas where economic development and job creation are lacking, is looking to continue the Berry family's revitalization of the ski area. "We want to become one of New England's iconic ski resorts, and we're excited to be in the company of resorts like Sugarloaf and Sunday River," Shepard told the Portland Press Herald.
Report by Katie Brinton