SAM Magazine—May 29, 2020—Multi-phase opening plans abound as resorts across the nation aim to get summer operations rolling. Memorial Day weekend saw a smattering of ski areas opening a limited range of activities, all with state approval and strict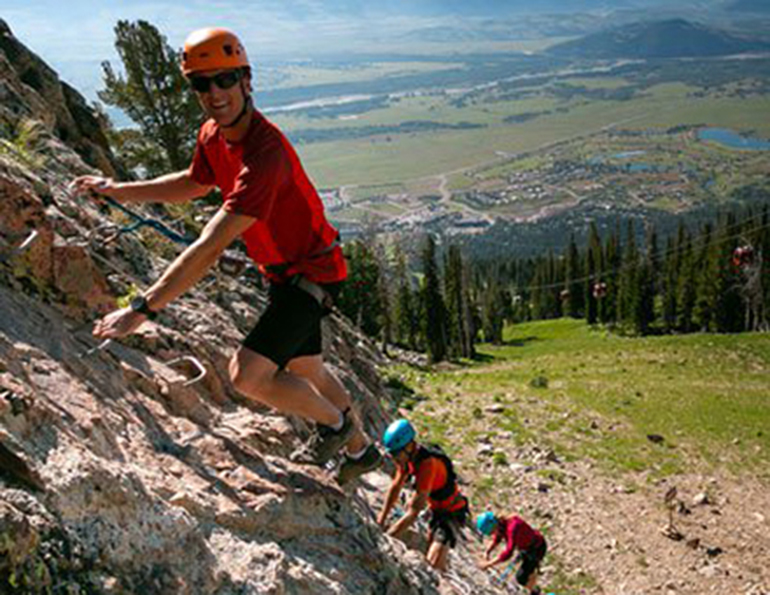 new guidelines. As stay-at-home orders continue to be rolled back, many resorts are looking at early to mid-June to open lodging, tent-pole attractions, and even events.
WEST
Jackson Hole Mountain Resort (JHMR), Wyo., is phasing in summer operations with a staggered reopening plan. Beginning tomorrow, May 30, the Bridger Gondola will open, along with several retail outlets and restaurants. June 20, the resort will open the via ferratta and lift-served mountain biking, as well as base area activities like the climbing wall, bungee trampoline, and frisbee golf course. The Piste Mountain Bistro and The Deck at Piste are scheduled to open July 1. To protect guests and employees, JHMR has put into place additional precautions and protocols, including enhanced cleaning, hand sanitizer stations, and mandatory masks in certain spaces.
Tamarack, Idaho, saw hundreds of visitors over Memorial Day weekend after opening May 16. On May 28, the Tamarack Bike Park opened and Summer Sports School lessons on the trails and the lake began as scheduled. Events will also be returning to Tamarack under new protocols and social distancing guidelines. The resort plans to host the NW Cup downhill mountain bike race series on June 27-28. And the Saturday Night Summer Concert Series will kick off on Fourth of July weekend in Tamarack's outdoor amphitheater, which will boast a new set-up for guests and vendors.
Deer Valley, Utah, will be opening for summer operations beginning in June. "We have been working diligently to offer a summer experience on the mountain this year and altering our operations to comply with all COVID-19 safety standards and guidelines," said president and COO Todd Shallan. "Although operations will look a bit different than in years past, we are very much looking forward to opening the resort once again and welcoming guests back to Deer Valley."
Deer Valley lodging is scheduled to reopen June 1. The resort's retail outlet on Main Street in Park City will reopen June 19. And lift-served mountain biking, hiking, and scenic rides will start June 26. Outdoor dining and take-away food will also be available from three restaurants during summer operations.
Woodward Park City, Utah, is also using a phased reopening plan. Its action sports parks opened May 23 for wheeled sports, including scooter, skateboarding, and BMX. Lift-served mountain biking, the trampoline, the parkour zone, and rental and retail operations will reopen in June, as guidelines allow. And the facility's new summer camp program is scheduled to start July 6. Like most operations, Woodward Park City is implementing new sanitation, health screening and social distancing policies and will be operating with limited capacity.
As reported earlier, Arapahoe Basin, Colo., reopened for skiing and riding May 27. Demand for tickets was so high it crashed the ski area's online reservation system. A-Basin has now moved to a lottery system to fill the 600 spots available daily on the mountain.
In a May 21 letter, Vail Resorts said it would not be reopening for late spring skiing at Breckenridge, Colo., Heavenly, Calif., or Whistler Blackcomb, B.C. But VR is still eyeing summer openings for its various properties. "Our hope is to have our lifts turning, at all of our resorts, by late June or early July and be welcoming people in all our lodging and retail stores by that time as well," said CEO Rob Katz.
Aspen Skiing Company is reopening its resorts for summer. Aspen Mountain, Colo., will open for the season on June 12. The resort will run the Silver Queen Gondola for sightseeing, disc golf, hiking, nature programs with the Aspen Center for Environmental studies, and access to the children's play area. Food and beverage services will also be available.
Snowmass, Colo., will open shortly after on June 21. "We have worked diligently to come up with a plan that meets the guidelines set by state and county authorities, and we believe that getting people on to the mountains and providing an opportunity for them to explore will be transformative," said Katie Ertl, VP of mountain operations.
Snowmass will spin the Elk Camp Gondola and the Elk Camp Chairlift and will open most activities in the Lost Forest, including the alpine coaster, the challenge course, and the climbing wall. The bike park will open as conditions permit. The resort will also allow access to hiking trails and open food and beverage options. To maintain social distancing, all activities can be booked online, beginning June 10. And instead of hosting a Passholder Week, the resort will spread passholder benefits across the entire summer season.
MIDWEST
Boyne Highlands, Mich., reopened lodging today, May 29. Resort pools and the spa remain closed, per state guidelines, but Boyne Highlands does have dining options available and is opening several activities. Lift-served mountain biking and Adventure Center activities, including zip lining and horseback rides, are scheduled to begin June 19. The resort is implementing new face-mask guidelines for entering and exiting parts of the operation, social distancing protocols in lines, and daily health screenings for staff.
Lutsen Mountains, Minn., began some summer operations over Memorial Day weekend, opening the Summit Express Gondola for scenic rides and the alpine slide. The Summit Chalet is scheduled to open June 5 for food service. The resort is planning to run a weekend only schedule until June 26, when Lutsen will open for daily summer operations. Guests are being encouraged to buy all tickets online, even same-day purchases. Face masks are also encouraged but not mandatory, and the resort will have hand sanitizer dispensers available at several locations.
In Wisconsin, which abruptly reopened two weeks ago following a court ruling, Mont du Lac has started summer operations at its RV resort. Over Memorial Day weekend, campsites were available, the resort hosted live music, its outdoor bar and grill was open, as was summer tubing, disc golf, and a new Big Kahuna Waterpark feature on the resort's pond. Mont du Lac's 3-D archery range remains closed and its mountain bike trails are currently undergoing maintenance.
EAST
Killington Resort, Vt., has opened for summer operations but will not reopen for spring skiing. "Given our commitment to early and late season skiing, it was hard to close the door on the 2019-20 ski season, but we feel fortunate to have enjoyed the longest season in the East—133 days—despite the early closure," said president and GM Mike Solimano.
The resort's golf course opened May 23, with COVID accommodations. And parts of the bike park are scheduled to open for passholders June 6 and for the general public June 12, pending approval from Vermont's Governor, Phil Scott. POWDR, which owns Killington, is reopening each of its resorts on a case-by-case basis.
Also in Vermont, Jay Peak, the first resort of its size to cease winter operations amid the pandemic, is readying to reopen. The championship golf course will be teeing off on June 5 for the season, as will outdoor dining and access to the outdoor pool.
The resort has launched its new EverClean Program, a set of stringent sanitizing protocols meant to maximize employee and guest safety. The new protocols include public Wellness Stations with hand sanitizer and disinfecting wipes, physical-distance markers in public spaces, plexiglass barriers at front desks, and door seals to indicate that no one has entered a lodging room since it was cleaned. The resort has also installed special antimicrobial film in high-touch areas.
"We're looking forward to integrating this new EverClean Program not only because it delivers on one of our core values of helping keep stakeholders safe, but also because it allows us to do so with the humanity necessary to be successful within the world of hospitality," said Jay Peak president and GM Steve Wright.
Alterra-owned Stratton Mountain, Vt., resumed limited operations last week. The golf course opened for the season May 22, and uphill foot traffic is now allowed on the mountain. The mountain bike trails remain closed, but the resort's Cliff Drysdale Tennis operation is scheduled to open tomorrow, May 30. Select businesses in the Village are also open for curbside pick-up. The resort is encouraging guests to "Play Safe, Play Smart" and follow new state implemented guidelines.
In Maine, Boyne-owned Sugarloaf is planning a gradual partial reopening. The golf club is scheduled to open June 5, followed by limited food and beverage and retail outlets. The hotel will then open June 19. Sugarloaf does not plan to open the Outpost this summer and will not offer zip line tours, Segway tours, or guided activities. Paddleboard and kayak rentals will be available, as well as disc golf, although scenic chairlift rides are still TBD.
Cannon Mountain, N.H., opened access to the Flume Gorge in Franconia State Park May 22. To support social distancing the trail has been made one-way and guests must make advance reservations online. The aerial tramway will remain closed through June, with a plan to reevaluate the possibility of summer scenic rides later in the month.
Waterville Valley, N.H., opened its golf club, tennis center, and Corcoran Pond Beach on Memorial Day weekend. The resort also began running bike rentals and disc golf out of the Adventure Center. Waterville is encouraging guests to hike and bike "low and local," per New Hampshire's state guidelines. Guests are required to wear a mask inside the adventure center, and the resort has implemented new social distancing and rental sanitation guidelines.
June 11, Camelback Resort, Pa., plans to reopen its hotel and two on-mountain attractions, the mountain coaster and the Double Barrel zip lines. The lodge will reopen at 35 percent capacity and guests will be limited on all adventure rides. Later in the month, the resort aims to open Camelbeach waterpark, Segway tours, the Zip-Flyer twin zip lines, the mountain slide, and the challenge course. The resort has instituted a new flexible booking policy and updated health and safety procedures.
Windham Mountain, N.Y., which opened for golf May 14, is looking to expand open summer offerings later this month. Opening for the bike park and scenic skyride are still TBD. But the resort will begin accepting monthly and weekly rentals at Whisper Creek and the Winwood Condos June 12. Windham has also added a new event, the Drive-In Jam, slated for June 27. The event will be a tailgate-style concert in the upper parking lot. A rolling cart will provide drinks and snacks.
Report by Katie Brinton