SAM Magazine—Stowe, Vt., Jan. 4, 2017—Growth through acquisition continues for Inntopia. The software as a service (SaaS) e-commerce company has acquired Denver-based DestiMetrics, which has been supplying lodging metrics and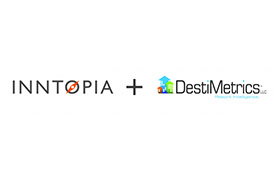 market intelligence to North American travel destinations, including the mountain travel industry, since 2004. This is the second acquisition for Inntopia since October, when it acquired database and CRM firm Ryan Solutions.
DestiMetrics adds a suite of market intelligence reports and analytics to Inntopia's current e-commerce platform, database marketing, and CRM products, which will all combine to give destinations the use of these collective resources to better inform lodging rates, target their marketing efforts, and leverage data.
DestiMetrics founder Ralf Garrison, who will continue to work with the business, said, "We have a close relationship with [Inntopia CEO] Trevor Crist and the Inntopia team. We see this merger powering DestiMetrics closer to data-driven marketing and predictive analytics for the destination industry, where short-term rental inventory is disrupting convention."
Crist adds, "DestiMetrics will serve as one of the foundational pieces of our upcoming Business Intelligence offering. Existing DestiMetrics clients will be able to automate their reporting through our API libraries, and generate on demand reports. And DestiMetrics reporting data will allow us to add powerful predictive pricing features into the Inntopia platform."
Inntopia is owned by Northstar Travel Group, which is a "B-to-B information and marketing solutions company serving all segments of the travel industry," according to its website. In June, Northstar was acquired by Wasserstein Partners IV, which is a mid-market buyout fund managed by WP Capital Management, a private equity investment company.
"The acquisition of DestiMetrics is an important investment to Northstar's data analytics tools and a great addition to Inntopia's marketing solutions offering," said Northstar CEO Tom Kemp. "DestiMetrics follows Inntopia's acquisition of Ryan Solutions in October and will help better position Inntopia and its growing family of products for significant growth in the future."