SAM Magazine—Palmerton, Pa., May 12, 2021—KSL Resorts, an affiliate of KSL Capital Partners, will manage Blue Mountain Resort in Pennsylvania. KSL Resorts quietly began managing Camelback Resort two years ago, also located in the Poconos Mountains. Details about the timeline or what the management agreement entails have not been released.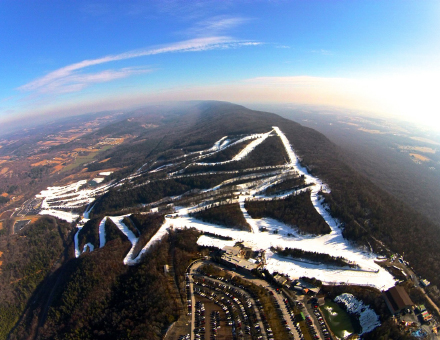 "We are excited to be joining the KSL Resorts family and confident KSL will successfully carry on the traditions of Blue Mountain Resort," said Blue Mountain president and CEO Barb Green. "I look forward to partnering with KSL to further enhance Blue Mountain Resort and welcome their resort expertise and five-star approach to guest experiences."
Green's father, Ray Tuthill, founded the resort as Little Gap Ski Area in 1977, and re-established it as Blue Mountain in 1989. Tuthill died in 2007, and Green took over the resort. Since then, Blue Mountain has expanded into a year-round operation, adding new facilities, activities, and attractions. This year, it introduces a new netted low-ropes course and additional group camping sites. 
"KSL Resorts is excited to manage Blue Mountain Resort as it's located in one of the Poconos' most spectacular settings and is the ideal complement to Camelback's numerous indoor and outdoor adventures — especially with its close proximity," said Shawn Hauver, vice president of asset performance for KSL Resorts and managing director for Camelback Resort.
"Barb Green has done a tremendous job of maintaining the mountain's natural splendor, and we are delighted to further our interests here in the Pocono Mountains — a community and lifestyle we admire and respect," Hauver continued.