SAM Magazine—Dover, Vt., Jan. 4, 2017—When we asked a handful of ski areas across North America how they fared during the Christmas holiday week, the following are just some of the adjectives used to describe it: "fantastic,"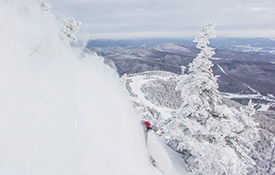 "excellent," "wonderful," "nuts," "spectacular"—even "perfect." From coast to coast, Santa brought snow, and people followed—in record numbers.
In New England, where there was more grass than snow on many of the region's trails a year ago, it was the kind of week all operators were hoping for. A major snowstorm that started on Thursday dumped more than a foot of snow on most of the region, closing out the week on a strong—and deep—note.
Lodging was sold out from Wednesday through Saturday at Sugarloaf in Maine. According to marketing director Ethan Austin, skier visits were up 20 percent and ticket revenue was up 35 percent over last year. The resort got more than 30 inches of snow from the midweek storm, and Saturday saw the biggest single-day skier visit total since 2011.
Next door in New Hampshire, SkiNH executive director Jessyca Keeler said the state's ski areas experienced similar success after the storm: "I heard about record sales on Friday, and ski areas running out of parking. I really didn't realize that many people loved powder in the East!" she said. "I think it proves that 'pent-up demand' we've all been referencing the last couple of months is real." Eight reporting resorts were collectively up 67 percent year-over-year, and compared to the same period in 2014, the same resorts were collectively up 29 percent.
In southern Vermont, 19 inches of snow fell at Mount Snow from Thursday through Friday morning. As a result, spokesperson Jamie Storrs said, Friday marked the resort's highest single-day skier visit total since the 2008-09 season.
On the other end of the state, Jay Peak GM Steve Wright was all smiles after setting a revenue record for the week, beating the 2012-13 mark by an estimated 10 percent. This was buoyed by two daily attendance records for the period, and 97 percent average occupancy for the week in the 800 rooms the resort has in its rental pool. The ski and ride school was sold out for eight straight days. Year-over-year, Jay was up 35 to 40 percent thanks to 50-inches of snow that fell during the week, opening 100 percent of its terrain. Friday, Dec. 30, was the busiest day in the history of the resort.
Eastern Canada enjoyed a significant turnaround from last season, too. According to Quebec Ski Areas Association president Yves Juneau, preliminary figures show revenues were up 20 to 40 percent for the week. A strong finish to the week, after ice and rain in the beginning of it, more than balanced things out.
In general, it's the best start to a season the region has experienced in 10 years—night and day from last year. "The Eastern Townships region gets the 'most improved season award' from last year," said Juneau. "Mont Sutton, for instance, had one trail open last year on Dec. 26, and had more than 40 runs available on the same date this year." Some ski areas in the region have measured more than 10 feet of snow so far this season.
In the Midwest, Tyrol Basin, Wis., GM Josh Faber said snow in early December coupled with good snowmaking conditions fueled a successful holiday week, with visits and revenue both up 25 percent. Overall, it was the ski area's best December on record.
Out West, the story was much the same. Big Sky, Mont., spokesperson Chelsi Moy raved about the holiday week, where two feet of snow fell during the holiday week. The resort set a record for single-day skier visits on Dec. 28, beating the previous number by more than 800. Lodging has been at capacity since Dec. 23.
John Gifford, president of the Pacific Northwest Ski Areas Association, had just begun receiving feedback from member resorts, but the news was all good. "YOY numbers at this point are stronger than last year. Snowfall has been above average, ranging from 107 to 148 percent of average through the end of December," he said. Ski school business levels are also above last year at reporting resorts.
And finally, in California, Christmas came a little early at Mammoth Mountain. "The two feet of new snow on Christmas Eve set up the holidays perfectly, with the entire mountain operating on fantastic conditions and a base depth of 66-150 inches," said PR manager Lauren Burke. The weather pattern for the holiday week was almost identical to last year, and so were the resort's skier visit numbers—which is good. Burke also said the ski and snowboard school was at full capacity.
Nationwide—top to bottom, side to side—it's all good news. As of today, only five trails are closed in Nevada and Arizona combined. Just about every ski area in the Southeast is open. Western Canada has been getting dumped on. If we missed you in our roundup, please add your report in the comments section below.
Refreshing, isn't it? All comparisons to last year aside, this has been a tremendous start to the ski season for pretty much the entire continent. After one big, collective high five, let's cross our fingers that it continues.