Table of Contents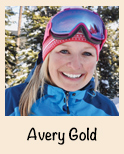 Avery Gold
Marketing Director, Showdown Ski Area, Mont.
Age: 28
Hometown: Great Falls, Mont.
Words to live by: Work like a captain, play like a pirate.

Avery Gold didn't plan to join the family business. Her grandfather owns Showdown Ski Area, and Avery has been around the ski area her whole life. When she took a job as a barista at Showdown straight out of college, Avery thought she would spend a winter making coffee and then move on. Now she's in her third year as marketing director, and she has taken an active role in the growth of the Montana ski and tourism industries.

You're 28 and you serve on three different boards?
Actually, I'm on four boards. I am also the secretary of the Meagher County Rodeo Club. I don't know much about Rodeo, but I can plan a party! And when you live in rural Montana, well—it's been fun. That's in addition to Central Montana Tourism, the Montana Ski Areas Association, and the Intermountain Ski Areas Association [Utah, Idaho, Wyoming, and Montana]. It has been fun to have my career evolve and get involved with these different organizations and associations.

Tell me about your work with the Montana Ski Areas Association.
As marketing chair, my biggest job is being a liaison between the association and the Montana Office of Tourism. This way we can join our efforts to promote winter recreation and, more specifically, skiing in Montana.

The association and the Office of Tourism have cooperated on some marketing opportunities. We give the Office of Tourism insight on things we see at our ski areas and provide input on their winter marketing planning. And, for Showdown, working with the association, the more we can brainstorm and talk to ski areas that are in like-minded situations, the more we can share best practices.
What is your favorite job perk?
Hmm…product testing. Testing the snow.

What's a hot button topic in your department right now?
The ever-changing world of technology and social media. When you are a one-woman marketing show, that need for constantly updated, fresh content is a big job.
What do you think is the biggest issue facing the industry?
The constant struggle to create new skiers. We really push that here at Showdown. We really try to make it beginner-friendly, with awesome, flexible lesson packages. We try to build solid skiers here.
How do you see resorts tackling this issue of low conversion rates in the next decade?
I think it is difficult because we are not just competing with other ski areas; we are competing with other sports. So I think we need to be on the top of people's minds and remind them that skiing is here.
And a big thing for Montana is that Montana winters are long. People that love to ski also love winter. I think it makes the year a lot more fun for them.
Tell me about your most memorable customer encounter.
We had a guy who followed Google Maps to get to the next town, and Google Maps told him the way to get to there was to drive over the ski hill. So I was leaving the ski area one night and I look down this road that is a ski run that goes to one of our chairlifts, and there is a car out on the ski run because Google told him to go there. I had to call our snowcat driver, and the snowcat driver had to come all the way back out here to the mountain to rescue the guy. And I cannot find on Google Maps how it told [this guy] to go down this road, but that was hysterical.