Table of Contents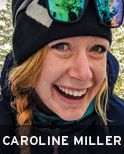 Caroline Miller
Title: Senior Health & Safety Manager, Kirkwood Mountain Resort, Calif.
Age: 27
Caroline Miller was born and raised at 9,000' in northern Colorado. She'd always had an affinity for high-altitude sports, but it wasn't until college that she fell in love with the ski industry. While studying at Montana State, Caroline volunteered for an adaptive recreation program at Bridger Bowl. "Working in adaptive was the best thing I've ever done," she says. When she moved to Utah to get her master's in public health, she didn't leave snowsports behind. She managed to juggle her research with work for a heli-ski company. Once Caroline graduated, she was eager to combine her education and her love for snowsports—risk management at a resort proved the perfect bridge.
What was the defining moment in your snowsports career?
I think the first was my active choice to continue in the snowsports industry. So, finishing up school and making the deliberate choice to say, "I love what I've educated myself in and I want to bring that to the ski industry." The second is when I started here at Kirkwood in December. It required an intense amount of courage that I wasn't sure I was ready to give. It allowed me to take all of these skills that I'm really proud of, and had worked really hard to cultivate, and exercise them at a resort that matched my identity.
How did you step up as the coronavirus situation rapidly evolved?
I've never been challenged in such a way of people looking to me for advice and clarity. It's a new disease. So, for me, it was this huge point of understanding what I know, understanding what I don't know, and understanding what I can control. I can't control all of our employees, but I can control how calm I am, the information that I share, and the message that I spread, so that I can provide the best experience for our employees and be the best resource that I can be.
Tell me something you learned during the pandemic and how you can apply it in the future.
One lesson that I've learned is that no one thrives alone in a time like this. Whether that means gathering the team to help make a decision or gathering the team to have those vulnerable check-ins, the biggest thing I've learned is that you should not be an island in times of distress. Working as a team is the best thing you can do for yourself. And not being afraid to admit when you don't know something.
You're the captain of your local chapter of the Vail Resorts POWDER program, which supports women in leadership roles. What's your advice to aspiring women leaders in the industry?
I've often felt too young, too small, too sensitive, too insert-demeaning-adjective-here. And I think there is sometimes this implication that to be a female leader you need to squelch those things. My advice to other women who want to be leaders is to feel, and to use your compassion to grow. I've been most inspired by female trailblazers who remind me that I don't need to fit into a cookie-cutter box.
What field would you be in if you didn't work in snowsports?
I would either be an epidemiologist, or I would teach middle schoolers geography, because I love it. I would teach kids to care about this world we live in.