Table of Contents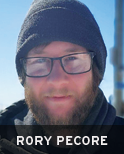 Rory Pecore
Title: Outdoor Operations Manager, Laurentian Ski Hill, Ontario
Age: 23
For Rory Pecore, the snowsports industry is a family business. His parents were both ski instructors when he was young, and now his mother runs Pecore Ski Solutions, a contracting firm specializing in ski area maintenance. Rory grew up in North Bay, a city in Northeastern Ontario, near the foot of Laurentian Ski Hill. He started volunteering at the mountain, doing odd jobs before he became an official employee at 14. Since then, he's been a lift operator, a terrain park supervisor, a groomer, a snowmaker, and a lift mechanic. Two years ago, he took on the larger role of outdoor operations manager. He loves the challenge and variety of his job and the ability to give back to the community. "I can't imagine working in an office," says Rory.
Describe a challenge you've encountered and how you overcame it.
Being a small hill with limited staff, it can be challenging to manage my time effectively. Snowmaking is a 24-hour operation, and to do all the maintenance and repairs on the groomers and the lifts that we have can lead to busy and chaotic days. So I like to make a list and just start with one thing. I work a lot of hours. And I use a lot of contacts within the industry and around town to get advice and support.
What leadership traits do you admire?
I admire hard work, dedication, and passion for the industry. I try to lead a lot by example. If you are training snowmakers or lifties, a lot of them are hands-on learners. I find it is better to get out there with them than stay in a classroom. I try to take time to answer questions and show the young staff about the trade industry.
Best professional advice you've gotten?
Never stop learning. The more you know about anything, the more valuable you are. At one point, my main focus was the terrain park, but my work as a lift operator and lift mechanic was all still valuable. And, if the rental shop gets slammed, I can jump in and put boots and helmets away.
Worst professional advice you've gotten?
In high school, I was pushed to go to university because I had good marks and was good at school. It was only in the last semester of grade 12, when I had a really good shop teacher, that I realized that maybe university wasn't the be-all, end-all. Just because it's an option, doesn't mean it's the best option. It's okay to have a job where you use your hands.
What long-term changes do you see for the industry with COVID-19?
With borders shut down and international travel halted, I think bigger hills that rely on international tourism will be hit especially hard. I could see adjusting our policies a bit to make sure people are safe. This year we talked about selling tickets online, using ticket windows, and stuff like that to minimize face-to-face contact. The bigger hills are already doing that, but for a small hill like ours, we hadn't been. So, we'll see where we are in four or five months.