Table of Contents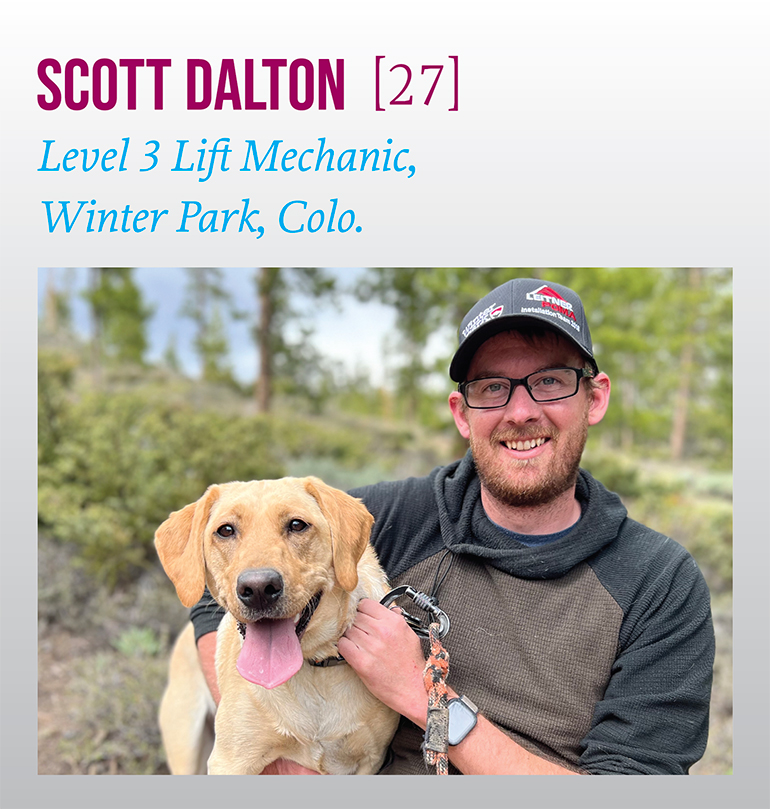 Some people just know that they want to pursue a career in the ski business, and Scott Dalton is one of those lucky people. Thanks to the support of his family who encouraged him to follow his passions, Scott went to Colorado Mountain College where he studied Ski Area Operations. While a student, Scott landed a job and climbed the ranks at nearby Winter Park, Colo. Now a level 3 lift mechanic, Scott is happy to call Winter Park home, surrounded by a team of like-minded people who love problem solving and being outdoors.
What do you love about your job/mountain?
I love the people and being outside every day. Every day is different, from seasonal maintenance to in-season when the radio goes off and I have to diagnose a problem and get it fixed quickly…I love the challenge. And Winter Park really is a great place to live. Winter Park Valley is small enough to know everyone, but big enough for services.
What's a challenge you encountered this year?
There will always be day-to-day challenges. And occasionally, there will be bigger ones, such as the major overhaul of the resort's Village Cabriolet. We installed a new haul rope last year, and then bearings in the main bullwheels. It was a big project and very rewarding.
Can you share some professional advice?
Every person has their own way of doing something. My advice to someone is learn how everyone does that job and pick the parts that work for you. No one way is perfect. And once you learn how people on your team function, you come together as a team. My co-worker Alex, he's my right-hand person. We've gotten to the point where he will hand me a tool almost without having to discuss it. It just flows.
What's one thing you must have on a ski or snowboard trip?
Something that's always with me—skiing, biking, swimming—one specific leather belt. I was given it as a gift by my girlfriend at the time. Tube to river, that belt is always with me.
Any bucket list items we should know about?
I want to go to Alaska and spend as much time as I can there. I always wanted to go to Alaska as a kid. The landscape is special. The mountains are grander, the wildlife … it's just a whole different way of life. It'd be a unique experience.
How did you feel when you found out you were recognized by SAM?
It's a major deal to be honored. It shows my peers respect me and my abilities and see that it should be shared with others. We have the SAM subscription at the shop and it's nice to know that lift maintenance was represented.