Table of Contents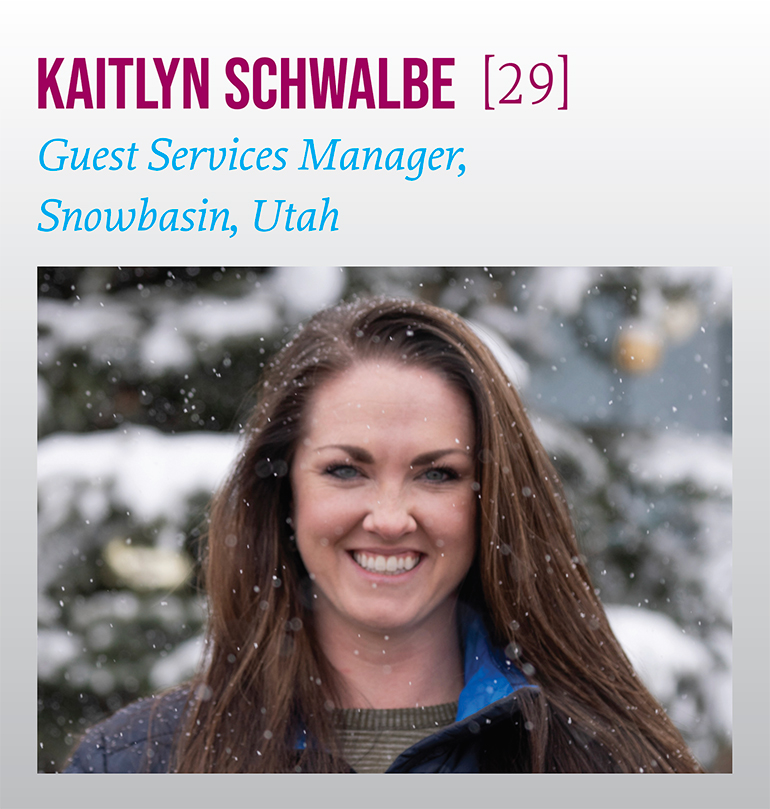 Kaitlyn Schwalbe's path into the ski industry was serendipitous, and anything but obvious. Kaitlyn grew up in Park City, Utah, and has been skiing since she could stand. However, it was never a clear career path. Instead, she traveled the world as a dancer until she had the epiphany—the one we can all relate to, whether or not we have rhythm—that she wanted to do something outdoors, free of four walls, with an ability to reconnect with nature.
Sounds like this was a pretty radical life change for you.
Yes. I felt like I just had a panic attack one day and had to get out of L.A. I stopped dancing and started working for Lululemon, and it was during one of our photoshoots at Snowbasin in Utah that everything changed. I just watched the resort employees out and about, enjoying the mountains, and asked myself, "How do you get to call THIS your office?" I gave my notice to Lululemon soon after, and my career with Snowbasin began. I've been with the resort for a year and a half so far, and I love it.
What's a challenge you encountered this season?
My first season was at the height of Covid, so that presented a series of challenges. We introduced a new mountain safety program, which is in its second season. Our first season was very successful but came with some trial and error. One of my main goals was adding structure and a branding program. I wouldn't say it was necessarily a struggle, but rather a lot of work, a lot of hands-on time, planning, as well as getting buy-in from other departments on goals and expectations. It took tenacity, and I'm happy to say year two has been successful, growing the people on the team, expanding my area of expertise around the mountain.
What does the mountain safety program do?
Well, mountain safety is responsible for monitoring the family safety zone. This is super fun. A lot of times, kids and families will come up to us and perfectly recite the full Skier's Responsibility Code because they know they'll be rewarded with a free hot chocolate voucher. We've had over 1,000 recorded interactions with guests on the mountain, and they range from preventative, to fun, educational, and gratitude.
What leadership traits do you admire?
Integrity, humility, grit, tenacity. I would never ask someone on my team to do something that I wouldn't do. If we're taking out the trash and find it has a broken liner, we got this together. Follow through is important. I admire that in other leaders and hold myself to it as well. Grit and tenacity have gotten me through the last two seasons.
What's the best professional advice you've ever gotten?
Our resort motto is: We can do hard things. It's great to have successes, and we celebrate those successes, but it also means that we're on the right path to ask, "what else can we do? In what other ways can we improve?" And when things get tough, we remember, "we can do hard things." It'll all work out, and we'll find a way through it.
What's on your playlist?
I'm a HUGE country fan. Being in Nashville earlier this summer was a dream. I would say most of my road trips would start and end with country music, with everything else sprinkled in the middle.