Table of Contents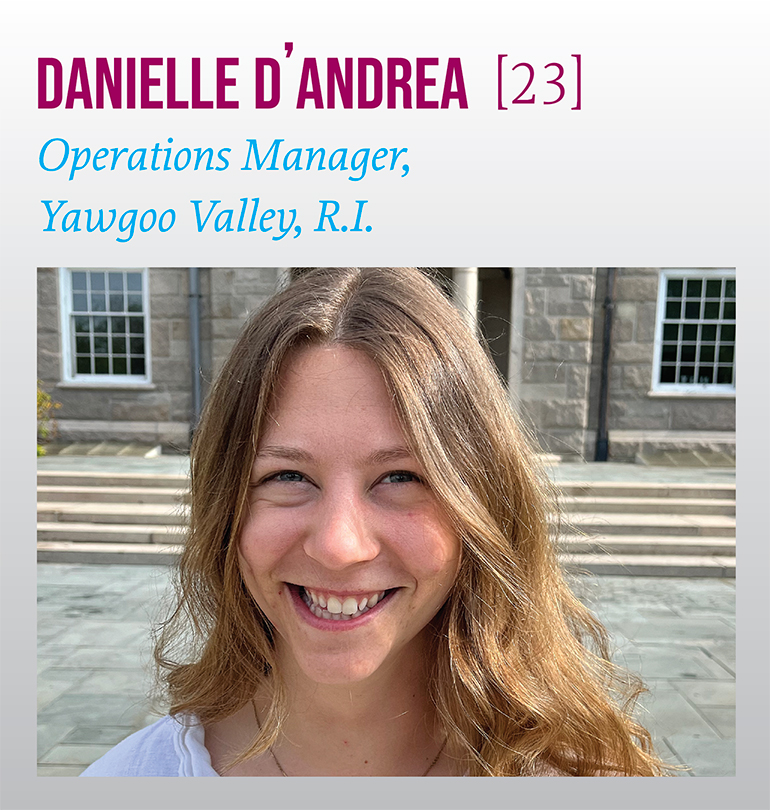 Danielle D'Andrea was born into a skiing family in New Hampshire and learned to ski "as a baby." When her family picked up and moved to the flat prairie lands of Illinois, though, the world of winter took a backseat. Fast forward to college at the University of Rhode Island, where Danielle overheard a classmate talking about snowmaking at the nearby ski area, Yawgoo Valley. "But Rhode Island is the Ocean State," she thought to herself. She became intrigued and applied to be a lift operator at the ski area because the job sounded unique—and it came with a free season pass. The rest is ongoing history.
Describe a typical day at Yawgoo Valley.
Well, we are the only ski area in Rhode Island. We're a small area with a small, tight knit team. In season, I work with the lift attendants, rentals, and other operations, managing attendance and staffing. If someone doesn't show, you either fill it or work it yourself. But honestly, I've been very lucky with my staff's commitment to their shift and the mountain.
And we joke around that most know us as the state's largest babysitter. It's actually really nice to know that the parents trust us with their families and their children, and I love being able to provide such a safe, fun, family place.
What keeps you in the ski business?
I wouldn't necessarily say my heart is in the "ski business." My heart is in Yawgoo. I love the people here, and I love the mountain. I don't know that I'd ever look for a new job at a bigger mountain. As long as there is opportunity at Yawgoo, I will definitely stay here. And, I went to college for teaching, so my expertise is in the education system, so it's really cool that the management here sees potential in me and wants to invest in that. I appreciate it.
What's a lesson you learned this season?
I think the biggest thing I've learned is to not be afraid to ask questions. I am always trying to learn and understand how things work, why we do what we do, etc. It's probably annoying to my staff; I hope they don't mind!
Most memorable moment this season?
When my friend, a rental tech, Ricardo [Napoles Marty] learned to ski for the first time. Ricardo is from Cuba and is a great artist—he sculpts and paints. So, one day, Ricardo decided he wanted to learn to ski. He asked all of us for pointers, but we're all snowboarders. So, we did our best to explain "pizza and French fry," and then we got him set up with equipment and I think he took a lesson. He came back at the end of the day so excited and happy. He had a great time skiing. His happiness is contagious, and it was cool to be a part of that experience for him.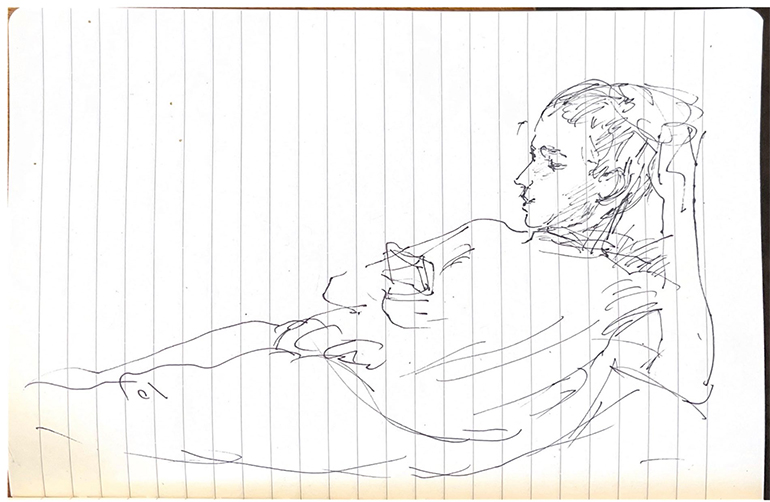 Ricardo drawing of Danielle.  Ricardo's professional work:  https://www.napolesmarty.com/home.
Best professional advice?
Be cautious of the staff from the old management. Just because someone else brought them in, doesn't mean you've got to keep them. I like hiring new people with fresh ideas that mesh well with the culture we are trying to create. It's important to build a solid team that is on the same page working toward the same goals.
Anything else you'd like to add?
It really comes down to the people. Our management … we all wear a lot of hats and work very well together. It's been great to work with them and have the opportunity to learn new things. From rentals, to snowmaking, to management… I really do love operations.
Yawgoo is a woman-owned area, and I feel that is the reason Yawgoo is what it is today. The example set by Tracy (owner) is exactly why I am there. She has shown not only me, but each employee, what it means to be dedicated while showing kindness, compassion, and pride in your work. She is the bar we are all hoping to reach one day. I would not be the operations manager that I am without her leadership.
If you had to pick one thing to eat for the rest of your life, what would it be?
I feel like it has to be pizza. Or sushi. Or cheese enchiladas.
Are you hungry now?
Yep, pretty much.