Table of Contents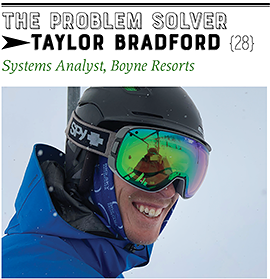 As a systems analyst for Boyne Resorts, Taylor Bradford puts his computer science and engineering degree to use working on major revenue applications and developing efficiencies across Boyne's network of resorts. "Taylor's ability to understand and translate the challenges and opportunities we face, to provide guests and end users better service, is tremendous," said a nominator. And Taylor does it all remotely. He is based in Big Sky, Mont., where he started with Boyne as an instructor six years ago. An AASI Level 3 certified snowboarder, Taylor still gets out on the hill, sometimes with clients, but often for fun. "My office is 100 feet from the chairlift," he says, noting his favorite job perk. 
Describe a challenge you encountered this season and how you overcame it. 
This year, everything was changing. Every week, there was something we wanted to do differently that we'd never done before. It was really challenging but also really fun—you are presented with a problem and you have to figure it out. Our New England resorts went to largely selling only online, which is a massive shift. The success of that was really a proud moment for our team. There were a lot of elements that had to go into that. It was a huge project, but it was one of those things that all of our resorts learned from.
What leadership qualities do you admire?
I love leadership as teamwork. My best working sessions with my boss are when we put out a problem and try to work it out. And I try to do that with others. It gives both people the opportunity to grow and learn together.
What industry developments have you stoked for the future of snowsports?  
I'd say a lot of the direct-to-lift opportunities. The ability for guests to not even to have to go online, to just be charged for the day, is just fantastic for the guest, and a more efficient process. Nobody likes standing in line to buy their ticket. They'd rather just go out and ski. 
Is there a lesson you learned this season you can carry forward?
Never let "we don't think it's possible" get in the way of actually accomplishing something, because we were able to accomplish 99 percent of the things we set out to do. There are always lots of challenges, but we just have to work through them. The first solution may not be the perfect one, but you try it out and figure out how to make it better next time.
You're trapped on a desert island. You can bring three objects. What are they, and why?
I would bring a sailboat because I love sailing. When it's not winter, that is my favorite activity. A comfortable chair to sit on the beach. And, hmmm, something to start a fire. I would enjoy sitting on a quiet desert island relaxing for a while. 
LISTEN TO EXCERPTS FROM TAYLOR'S 11 UNDER 30 INTERVIEW BY CLICKING HERE.