Table of Contents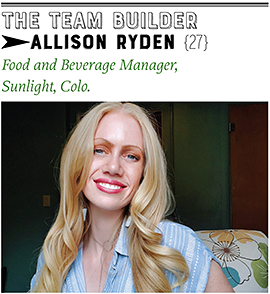 Allison Ryden got her start in the industry at just 3 years old, watching her dad at work as the director of food and beverage for Vail Mountain. "My daycare was a Cisco box," she says. She's been honing her expertise ever since. She gravitated toward Sunlight because of the mountain's family feel, and that sense of camaraderie is something she continues to cultivate in her team. "Her department follows her unparalleled work ethic," said a nominator. Two years ago, when the previous F&B manager left just weeks before the start of the season, Allison was the obvious choice for the role.
What leadership traits do you admire?
Especially in a kitchen, you hear those horror stories of chefs yelling and throwing things. I've seen that in my experience, and that holds everyone back. I like to make sure everyone is in a comfortable environment. It really helps the morale of a kitchen. It's sweet to see people want to come to work and want to express their creativity. I like to listen to their opinions and ideas, and bring them together as a team.
Describe a challenge you encountered this season and how you overcame it. 
Our biggest challenge this season, as with everybody else, was Covid. Since we are a tourist area, the restrictions are different in every state. So, people would come in thinking they don't need a mask, or saying, "I don't need to do this." The way we worked with that is we had one of our cashiers go around lodge reminding people [about resort protocols]. There is no challenge that we can't overcome together at Sunlight.
What's a hot button topic in your department?  
We cook all of our food to order. That all comes down to the staff. I try to give a "Rocky" pump up speech at the beginning of the day because if the staff is happy, the customer is happy. Since food is cooked to order, we have to alleviate the stress of the staff. I would rather guests have fresh food than subpar food. I want to provide them with the best quality food that we can, and our staff really understands that and instills it within their work. 
You've been working on some sustainability efforts. Tell me about them. 
I'm all about sustainability, especially in the bar. The trash can is just full of cans that go to the garbage, and this past season, with Covid, paper product use doubled. Every paper product that we have is compostable or biodegradable. I want to bring in reusable, hard plastic cups. We are looking at silverware versus plasticware and more recycling containers to help encourage visitors to try to recycle instead of throwing things out. 
You're trapped on a desert island. You can bring three objects. What are they, and why?
If animals count, I would bring my cats. I would bring good music. And my roller skates. 
How are you rolling skating on a desert island? 
I would find a way. 
LISTEN TO EXCERPTS FROM ALLISON'S 11 UNDER 30 INTERVIEW BY CLICKING HERE