Table of Contents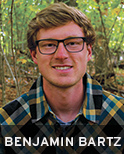 BENJAMIN BARTZ
Mountain Manager, Giants Ridge, Minn.
Age: 23

When Benjamin Bartz was nine, he decided skiing looked like more fun than hockey. Once he found his way onto the hill, he was captivated by the behind-the-scenes action. "I was fascinated with all of the stuff the ski area was trying to prevent me from seeing, like grooming and snowmaking," says Bartz. He set his sights on a career in the industry and went to Northern Michigan University to study ski area management. After an internship in Colorado, opportunity led Bartz back to the Midwest where he serves as mountain manager at Giants Ridge in Minnesota.

What was your most defining career moment?
I think landing this job definitely changed my entire plan. I didn't really have plans to be in a position like this so early. Accepting this position was a huge jump for me.

How did your degree prepare you for your role as mountain manager?
I was able to do a lot of hands on training. You get to do a little bit of everything at a rapid-fire pace. People who don't do a program like that, it might take them a little longer to get that exposure.

Tell me about a change you've implemented.
When I got here, the lift operator training program was not as strong as I would have liked it. So, I re-envisioned the whole thing and tried to place an increased focus on the guest service side of that job. From the mountain ops standpoint, most of what we do is not a guest-facing thing. The lift operators really are our only guest-facing employees. So I just think it is really important that we are putting our best foot forward and making it an enjoyable experience for each guest. That's how you get customers to come back.

Are there any developments that have you stoked about the future of the snowsports industry?
What gets me most excited is just seeing that, at an industry-wide level, it seems that a lot of resorts are taking a stand on certain issues, like Aspen and their "Give a Flake" campaign. Even at a broader scale, having big names like Patagonia say they are going to run a more values-based business is really cool to see.

What role do you see the industry playing in combatting climate change?
I subscribe to the theory that it's not just about changing our light bulbs and recycling. I think, because we are places people come to recreate and enjoy the outdoors, it gives us that platform to share a message about why climate change is important and educate people about where we are going and how we can alter that.

What is something interesting that you do outside the ski industry?
I really enjoy photography—taking pictures and just being outdoors and seeing as many cool places as I can.

What were you voted in your high school yearbook?
I think it was always smiling.